{"id":3977970450545,"title":"Bkin Personal Safety Light","handle":"bkin","description":"\u003cp\u003eWearable safety beacon with easy mounting on bag, shirt, helmet or any other flat attachment point. Ultra bright visible day and night. USB rechargeable. Lightweight with up to 20 hours runtime.\u003c\/p\u003e","published_at":"2019-07-29T18:26:05-04:00","created_at":"2019-07-29T18:26:09-04:00","vendor":"Delta Cycle, Inc.","type":"Accessories","tags":[],"price":1499,"price_min":1499,"price_max":3499,"available":true,"price_varies":true,"compare_at_price":null,"compare_at_price_min":0,"compare_at_price_max":0,"compare_at_price_varies":false,"variants":[{"id":29474908110961,"title":"Front (white light) : Green accent","option1":"Front (white light) : Green accent","option2":null,"option3":null,"sku":"BK1000BGN","requires_shipping":true,"taxable":true,"featured_image":{"id":16018556715121,"product_id":3977970450545,"position":1,"created_at":"2020-11-25T22:49:04-05:00","updated_at":"2020-11-25T22:49:25-05:00","alt":"Bkin Personal Safety Light Front (White Light): Green Accent Accessories","width":1200,"height":1200,"src":"https:\/\/cdn.shopify.com\/s\/files\/1\/0026\/0666\/1745\/products\/BK_1000_Colors1.jpg?v=1606362565","variant_ids":[29474908110961,29474908143729,29474908176497]},"available":true,"name":"Bkin Personal Safety Light - Front (white light) : Green accent","public_title":"Front (white light) : Green accent","options":["Front (white light) : Green accent"],"price":1499,"weight":0,"compare_at_price":null,"inventory_management":"shopify","barcode":null,"featured_media":{"alt":"Bkin Personal Safety Light Front (White Light): Green Accent Accessories","id":8101483642993,"position":1,"preview_image":{"aspect_ratio":1.0,"height":1200,"width":1200,"src":"https:\/\/cdn.shopify.com\/s\/files\/1\/0026\/0666\/1745\/products\/BK_1000_Colors1.jpg?v=1606362544"}},"requires_selling_plan":false,"selling_plan_allocations":[]},{"id":29474908143729,"title":"Front (white light) : Pink accent","option1":"Front (white light) : Pink accent","option2":null,"option3":null,"sku":"BK1000BP","requires_shipping":true,"taxable":true,"featured_image":{"id":16018556715121,"product_id":3977970450545,"position":1,"created_at":"2020-11-25T22:49:04-05:00","updated_at":"2020-11-25T22:49:25-05:00","alt":"Bkin Personal Safety Light Front (White Light): Green Accent Accessories","width":1200,"height":1200,"src":"https:\/\/cdn.shopify.com\/s\/files\/1\/0026\/0666\/1745\/products\/BK_1000_Colors1.jpg?v=1606362565","variant_ids":[29474908110961,29474908143729,29474908176497]},"available":false,"name":"Bkin Personal Safety Light - Front (white light) : Pink accent","public_title":"Front (white light) : Pink accent","options":["Front (white light) : Pink accent"],"price":1499,"weight":0,"compare_at_price":null,"inventory_management":"shopify","barcode":null,"featured_media":{"alt":"Bkin Personal Safety Light Front (White Light): Green Accent Accessories","id":8101483642993,"position":1,"preview_image":{"aspect_ratio":1.0,"height":1200,"width":1200,"src":"https:\/\/cdn.shopify.com\/s\/files\/1\/0026\/0666\/1745\/products\/BK_1000_Colors1.jpg?v=1606362544"}},"requires_selling_plan":false,"selling_plan_allocations":[]},{"id":29474908176497,"title":"Front (white light) : Grey accent","option1":"Front (white light) : Grey accent","option2":null,"option3":null,"sku":"BK1000BG","requires_shipping":true,"taxable":true,"featured_image":{"id":16018556715121,"product_id":3977970450545,"position":1,"created_at":"2020-11-25T22:49:04-05:00","updated_at":"2020-11-25T22:49:25-05:00","alt":"Bkin Personal Safety Light Front (White Light): Green Accent Accessories","width":1200,"height":1200,"src":"https:\/\/cdn.shopify.com\/s\/files\/1\/0026\/0666\/1745\/products\/BK_1000_Colors1.jpg?v=1606362565","variant_ids":[29474908110961,29474908143729,29474908176497]},"available":true,"name":"Bkin Personal Safety Light - Front (white light) : Grey accent","public_title":"Front (white light) : Grey accent","options":["Front (white light) : Grey accent"],"price":1799,"weight":0,"compare_at_price":null,"inventory_management":"shopify","barcode":null,"featured_media":{"alt":"Bkin Personal Safety Light Front (White Light): Green Accent Accessories","id":8101483642993,"position":1,"preview_image":{"aspect_ratio":1.0,"height":1200,"width":1200,"src":"https:\/\/cdn.shopify.com\/s\/files\/1\/0026\/0666\/1745\/products\/BK_1000_Colors1.jpg?v=1606362544"}},"requires_selling_plan":false,"selling_plan_allocations":[]},{"id":29474908209265,"title":"Rear (red light) : Grey accent","option1":"Rear (red light) : Grey accent","option2":null,"option3":null,"sku":"BK1001BGR","requires_shipping":true,"taxable":true,"featured_image":{"id":16018557796465,"product_id":3977970450545,"position":5,"created_at":"2020-11-25T22:49:17-05:00","updated_at":"2020-11-25T22:49:25-05:00","alt":"Bkin Personal Safety Light Rear (Red Light): Grey Accent Accessories","width":1200,"height":1200,"src":"https:\/\/cdn.shopify.com\/s\/files\/1\/0026\/0666\/1745\/products\/BK_Rear_Web.jpg?v=1606362565","variant_ids":[29474908209265]},"available":true,"name":"Bkin Personal Safety Light - Rear (red light) : Grey accent","public_title":"Rear (red light) : Grey accent","options":["Rear (red light) : Grey accent"],"price":1499,"weight":0,"compare_at_price":null,"inventory_management":"shopify","barcode":null,"featured_media":{"alt":"Bkin Personal Safety Light Rear (Red Light): Grey Accent Accessories","id":8101484724337,"position":5,"preview_image":{"aspect_ratio":1.0,"height":1200,"width":1200,"src":"https:\/\/cdn.shopify.com\/s\/files\/1\/0026\/0666\/1745\/products\/BK_Rear_Web.jpg?v=1606362557"}},"requires_selling_plan":false,"selling_plan_allocations":[]},{"id":29474908242033,"title":"Front \u0026 rear combo : Grey accent","option1":"Front \u0026 rear combo : Grey accent","option2":null,"option3":null,"sku":"BK1001BGBGR","requires_shipping":true,"taxable":true,"featured_image":{"id":16018558091377,"product_id":3977970450545,"position":7,"created_at":"2020-11-25T22:49:24-05:00","updated_at":"2020-11-25T22:49:25-05:00","alt":"Bkin Personal Safety Light Front \u0026 Rear Combo: Grey Accent Accessories","width":1200,"height":1200,"src":"https:\/\/cdn.shopify.com\/s\/files\/1\/0026\/0666\/1745\/products\/BGBGR_Pack.jpg?v=1606362565","variant_ids":[29474908242033]},"available":true,"name":"Bkin Personal Safety Light - Front \u0026 rear combo : Grey accent","public_title":"Front \u0026 rear combo : Grey accent","options":["Front \u0026 rear combo : Grey accent"],"price":3499,"weight":0,"compare_at_price":null,"inventory_management":"shopify","barcode":null,"featured_media":{"alt":"Bkin Personal Safety Light Front \u0026 Rear Combo: Grey Accent Accessories","id":8101485019249,"position":7,"preview_image":{"aspect_ratio":1.0,"height":1200,"width":1200,"src":"https:\/\/cdn.shopify.com\/s\/files\/1\/0026\/0666\/1745\/products\/BGBGR_Pack.jpg?v=1606362564"}},"requires_selling_plan":false,"selling_plan_allocations":[]}],"images":["\/\/cdn.shopify.com\/s\/files\/1\/0026\/0666\/1745\/products\/BK_1000_Colors1.jpg?v=1606362565","\/\/cdn.shopify.com\/s\/files\/1\/0026\/0666\/1745\/products\/BK_Products_Web.jpg?v=1606362565","\/\/cdn.shopify.com\/s\/files\/1\/0026\/0666\/1745\/products\/BK_1000_ON.jpg?v=1606362565","\/\/cdn.shopify.com\/s\/files\/1\/0026\/0666\/1745\/products\/BK_1000_CloseUp.jpg?v=1606362565","\/\/cdn.shopify.com\/s\/files\/1\/0026\/0666\/1745\/products\/BK_Rear_Web.jpg?v=1606362565","\/\/cdn.shopify.com\/s\/files\/1\/0026\/0666\/1745\/products\/BK_BackSide_Web.jpg?v=1606362565","\/\/cdn.shopify.com\/s\/files\/1\/0026\/0666\/1745\/products\/BGBGR_Pack.jpg?v=1606362565"],"featured_image":"\/\/cdn.shopify.com\/s\/files\/1\/0026\/0666\/1745\/products\/BK_1000_Colors1.jpg?v=1606362565","options":["Configuration"],"media":[{"alt":"Bkin Personal Safety Light Front (White Light): Green Accent Accessories","id":8101483642993,"position":1,"preview_image":{"aspect_ratio":1.0,"height":1200,"width":1200,"src":"https:\/\/cdn.shopify.com\/s\/files\/1\/0026\/0666\/1745\/products\/BK_1000_Colors1.jpg?v=1606362544"},"aspect_ratio":1.0,"height":1200,"media_type":"image","src":"https:\/\/cdn.shopify.com\/s\/files\/1\/0026\/0666\/1745\/products\/BK_1000_Colors1.jpg?v=1606362544","width":1200},{"alt":"Bkin Personal Safety Light Accessories","id":8101483806833,"position":2,"preview_image":{"aspect_ratio":1.0,"height":1200,"width":1200,"src":"https:\/\/cdn.shopify.com\/s\/files\/1\/0026\/0666\/1745\/products\/BK_Products_Web.jpg?v=1606362546"},"aspect_ratio":1.0,"height":1200,"media_type":"image","src":"https:\/\/cdn.shopify.com\/s\/files\/1\/0026\/0666\/1745\/products\/BK_Products_Web.jpg?v=1606362546","width":1200},{"alt":"Bkin Personal Safety Light Accessories","id":8101484036209,"position":3,"preview_image":{"aspect_ratio":1.0,"height":1200,"width":1200,"src":"https:\/\/cdn.shopify.com\/s\/files\/1\/0026\/0666\/1745\/products\/BK_1000_ON.jpg?v=1606362550"},"aspect_ratio":1.0,"height":1200,"media_type":"image","src":"https:\/\/cdn.shopify.com\/s\/files\/1\/0026\/0666\/1745\/products\/BK_1000_ON.jpg?v=1606362550","width":1200},{"alt":"Bkin Personal Safety Light Accessories","id":8101484527729,"position":4,"preview_image":{"aspect_ratio":1.0,"height":1200,"width":1200,"src":"https:\/\/cdn.shopify.com\/s\/files\/1\/0026\/0666\/1745\/products\/BK_1000_CloseUp.jpg?v=1606362553"},"aspect_ratio":1.0,"height":1200,"media_type":"image","src":"https:\/\/cdn.shopify.com\/s\/files\/1\/0026\/0666\/1745\/products\/BK_1000_CloseUp.jpg?v=1606362553","width":1200},{"alt":"Bkin Personal Safety Light Rear (Red Light): Grey Accent Accessories","id":8101484724337,"position":5,"preview_image":{"aspect_ratio":1.0,"height":1200,"width":1200,"src":"https:\/\/cdn.shopify.com\/s\/files\/1\/0026\/0666\/1745\/products\/BK_Rear_Web.jpg?v=1606362557"},"aspect_ratio":1.0,"height":1200,"media_type":"image","src":"https:\/\/cdn.shopify.com\/s\/files\/1\/0026\/0666\/1745\/products\/BK_Rear_Web.jpg?v=1606362557","width":1200},{"alt":"Bkin Personal Safety Light Accessories","id":8101484855409,"position":6,"preview_image":{"aspect_ratio":1.0,"height":1200,"width":1200,"src":"https:\/\/cdn.shopify.com\/s\/files\/1\/0026\/0666\/1745\/products\/BK_BackSide_Web.jpg?v=1606362560"},"aspect_ratio":1.0,"height":1200,"media_type":"image","src":"https:\/\/cdn.shopify.com\/s\/files\/1\/0026\/0666\/1745\/products\/BK_BackSide_Web.jpg?v=1606362560","width":1200},{"alt":"Bkin Personal Safety Light Front \u0026 Rear Combo: Grey Accent Accessories","id":8101485019249,"position":7,"preview_image":{"aspect_ratio":1.0,"height":1200,"width":1200,"src":"https:\/\/cdn.shopify.com\/s\/files\/1\/0026\/0666\/1745\/products\/BGBGR_Pack.jpg?v=1606362564"},"aspect_ratio":1.0,"height":1200,"media_type":"image","src":"https:\/\/cdn.shopify.com\/s\/files\/1\/0026\/0666\/1745\/products\/BGBGR_Pack.jpg?v=1606362564","width":1200}],"requires_selling_plan":false,"selling_plan_groups":[],"content":"\u003cp\u003eWearable safety beacon with easy mounting on bag, shirt, helmet or any other flat attachment point. Ultra bright visible day and night. USB rechargeable. Lightweight with up to 20 hours runtime.\u003c\/p\u003e"}
Bkin Personal Safety Light
Be seen
Super-bright, pulsing light keeps you safer thru increased visibility. Bkin is a wearable safety device which offers unprecedented brightness in an extraordinarily lightweight and compact package. Day or night, near or far, the multi-use Bkin is designed for use in a range of activities including cycling, running, hiking or simply taking your children or dog for a stroll.
---
Features
Quick Assembly
Easy mount to any round bar up to 1.5" diameter
Flexible
Wearable clip also included for mounting on bag, shirt, helmet or any other flat attachment point
Construction
Precision molded thermoplastic with stainless spring clip
Versatile
4 light modes steady (1⁄2 & full) blink (1⁄2 and full). Integral USB recharge
Visibility
Ultra bright 300 meters day/ 1000 meters night
Viewing Angle
120 degrees
Battery Life
2.5 hrs run time steady full power / 20 hrs flash 1⁄2 power
Colors / Customization
Front (white light), available with grey / green / pink accents. Rear (red light) available
Dimensions
2.1" x .3" x .75" / 5.3 cm x 3.4 cm x1.9 cm
---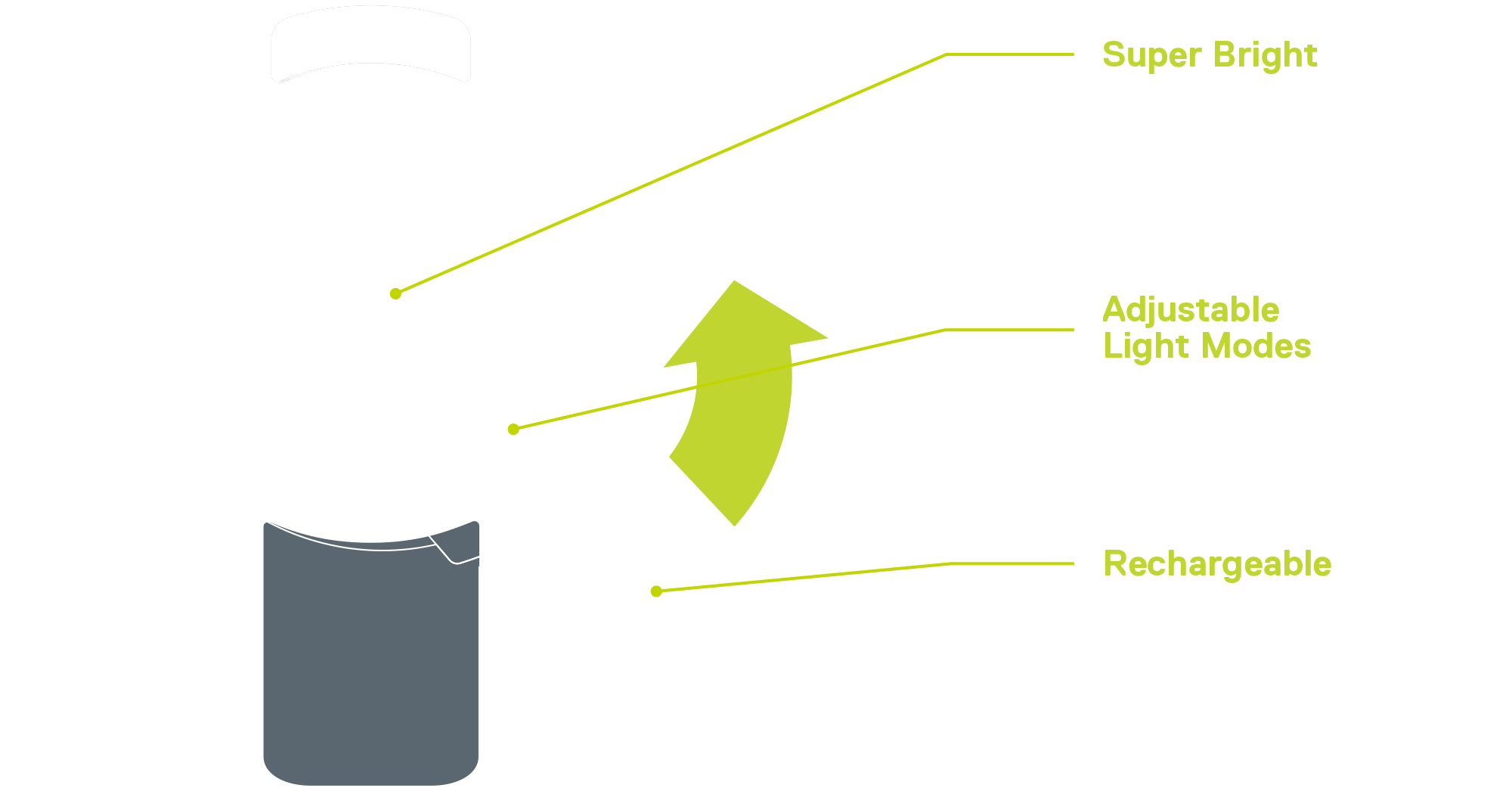 ---
---
Delta Guarantee
We put a lot of effort into the design, engineering and materials that go into every product so they will look great, work well and last. That's why we offer a limited lifetime warranty that covers defects in workmanship and materials. If something goes wrong, we will do our best to help solve the problem.