{"id":3977973334129,"title":"Funimal Nursery Floating Shelves Decorative Brackets, Animals","handle":"bookend-brackets","description":"\u003cp\u003eAvailable in a range of colorful animal designs, our floating wall bookshelf brackets adds personality to any nursery. As functional as they are fun, our nursery shelf brackets safely hold up to 44 lbs each. Measuring 8" deep and complete, there's plenty of storage space for books, toys and your go-to care products\u003c\/p\u003e","published_at":"2019-07-29T18:27:19-04:00","created_at":"2019-07-29T18:27:23-04:00","vendor":"Delta Cycle, Inc.","type":"Shelving","tags":[],"price":1999,"price_min":1999,"price_max":1999,"available":true,"price_varies":false,"compare_at_price":null,"compare_at_price_min":0,"compare_at_price_max":0,"compare_at_price_varies":false,"variants":[{"id":29474913353841,"title":"Yellow Dog","option1":"Yellow Dog","option2":null,"option3":null,"sku":"FB1002YD","requires_shipping":true,"taxable":true,"featured_image":{"id":13729157677169,"product_id":3977973334129,"position":13,"created_at":"2020-01-02T09:22:27-05:00","updated_at":"2021-08-23T15:18:19-04:00","alt":"Funimal Nursery Floating Shelves Decorative Brackets","width":1200,"height":1200,"src":"https:\/\/cdn.shopify.com\/s\/files\/1\/0026\/0666\/1745\/products\/unnamed_5.jpg?v=1629746299","variant_ids":[29474913353841]},"available":true,"name":"Funimal Nursery Floating Shelves Decorative Brackets, Animals - Yellow Dog","public_title":"Yellow Dog","options":["Yellow Dog"],"price":1999,"weight":0,"compare_at_price":null,"inventory_management":"shopify","barcode":null,"featured_media":{"alt":"Funimal Nursery Floating Shelves Decorative Brackets","id":5897571926129,"position":13,"preview_image":{"aspect_ratio":1.0,"height":1200,"width":1200,"src":"https:\/\/cdn.shopify.com\/s\/files\/1\/0026\/0666\/1745\/products\/unnamed_5.jpg?v=1629746299"}},"requires_selling_plan":false,"selling_plan_allocations":[]},{"id":29474913386609,"title":"Pink Pig","option1":"Pink Pig","option2":null,"option3":null,"sku":"FB1002PP","requires_shipping":true,"taxable":true,"featured_image":{"id":14709771436145,"product_id":3977973334129,"position":6,"created_at":"2020-06-03T10:18:26-04:00","updated_at":"2021-08-23T15:17:57-04:00","alt":"Funimal Nursery Floating Shelves Decorative Brackets","width":3258,"height":3258,"src":"https:\/\/cdn.shopify.com\/s\/files\/1\/0026\/0666\/1745\/products\/Funimals_Pig_bracket_1_1_c406d079-d0da-40cc-b279-41d0522792c6.jpg?v=1629746277","variant_ids":[29474913386609]},"available":true,"name":"Funimal Nursery Floating Shelves Decorative Brackets, Animals - Pink Pig","public_title":"Pink Pig","options":["Pink Pig"],"price":1999,"weight":0,"compare_at_price":null,"inventory_management":"shopify","barcode":null,"featured_media":{"alt":"Funimal Nursery Floating Shelves Decorative Brackets","id":6878416666737,"position":6,"preview_image":{"aspect_ratio":1.0,"height":3258,"width":3258,"src":"https:\/\/cdn.shopify.com\/s\/files\/1\/0026\/0666\/1745\/products\/Funimals_Pig_bracket_1_1_c406d079-d0da-40cc-b279-41d0522792c6.jpg?v=1629746277"}},"requires_selling_plan":false,"selling_plan_allocations":[]},{"id":29474913419377,"title":"Orange Cat","option1":"Orange Cat","option2":null,"option3":null,"sku":"FB1002OC","requires_shipping":true,"taxable":true,"featured_image":{"id":12198946406513,"product_id":3977973334129,"position":5,"created_at":"2019-09-03T14:27:43-04:00","updated_at":"2021-08-23T15:17:53-04:00","alt":"Funimal Nursery Floating Shelves Decorative Brackets","width":1200,"height":1200,"src":"https:\/\/cdn.shopify.com\/s\/files\/1\/0026\/0666\/1745\/products\/KS_Cat_Life_1_Web.jpg?v=1629746273","variant_ids":[29474913419377]},"available":true,"name":"Funimal Nursery Floating Shelves Decorative Brackets, Animals - Orange Cat","public_title":"Orange Cat","options":["Orange Cat"],"price":1999,"weight":0,"compare_at_price":null,"inventory_management":"shopify","barcode":null,"featured_media":{"alt":"Funimal Nursery Floating Shelves Decorative Brackets","id":4054919872625,"position":5,"preview_image":{"aspect_ratio":1.0,"height":1200,"width":1200,"src":"https:\/\/cdn.shopify.com\/s\/files\/1\/0026\/0666\/1745\/products\/KS_Cat_Life_1_Web.jpg?v=1629746273"}},"requires_selling_plan":false,"selling_plan_allocations":[]}],"images":["\/\/cdn.shopify.com\/s\/files\/1\/0026\/0666\/1745\/products\/KS2080YD_DOG_product_detail_1_da158df3-9f5a-46a8-833d-151a421e5382.jpg?v=1629746248","\/\/cdn.shopify.com\/s\/files\/1\/0026\/0666\/1745\/products\/KS2080YD_DOG_product_main_2_reduced_0496a60b-a91c-49ef-9a04-25ae09b4e1eb.jpg?v=1629746256","\/\/cdn.shopify.com\/s\/files\/1\/0026\/0666\/1745\/products\/KS2080OC_cat_shelf_2-pack_product_detail_ace3d62c-8a7e-4e7c-805a-287dc8872fe6.jpg?v=1629746267","\/\/cdn.shopify.com\/s\/files\/1\/0026\/0666\/1745\/products\/unnamed_3.jpg?v=1629746270","\/\/cdn.shopify.com\/s\/files\/1\/0026\/0666\/1745\/products\/KS_Cat_Life_1_Web.jpg?v=1629746273","\/\/cdn.shopify.com\/s\/files\/1\/0026\/0666\/1745\/products\/Funimals_Pig_bracket_1_1_c406d079-d0da-40cc-b279-41d0522792c6.jpg?v=1629746277","\/\/cdn.shopify.com\/s\/files\/1\/0026\/0666\/1745\/products\/Funimals_Pig_bracket_2_5a4724fe-f091-4e78-af62-4fbe4d21777f.jpg?v=1629746280","\/\/cdn.shopify.com\/s\/files\/1\/0026\/0666\/1745\/products\/unnamed_10.jpg?v=1629746285","\/\/cdn.shopify.com\/s\/files\/1\/0026\/0666\/1745\/products\/unnamed_2.jpg?v=1629746288","\/\/cdn.shopify.com\/s\/files\/1\/0026\/0666\/1745\/products\/unnamed_13_a3793233-b4b1-4e94-95d0-08bc94c59c22.jpg?v=1629746290","\/\/cdn.shopify.com\/s\/files\/1\/0026\/0666\/1745\/products\/unnamed_8.jpg?v=1629746293","\/\/cdn.shopify.com\/s\/files\/1\/0026\/0666\/1745\/products\/unnamed_4.jpg?v=1629746296","\/\/cdn.shopify.com\/s\/files\/1\/0026\/0666\/1745\/products\/unnamed_5.jpg?v=1629746299"],"featured_image":"\/\/cdn.shopify.com\/s\/files\/1\/0026\/0666\/1745\/products\/KS2080YD_DOG_product_detail_1_da158df3-9f5a-46a8-833d-151a421e5382.jpg?v=1629746248","options":["Bracket Style"],"media":[{"alt":"Funimal Nursery Floating Shelves Decorative Brackets","id":6878405656689,"position":1,"preview_image":{"aspect_ratio":1.0,"height":3258,"width":3258,"src":"https:\/\/cdn.shopify.com\/s\/files\/1\/0026\/0666\/1745\/products\/KS2080YD_DOG_product_detail_1_da158df3-9f5a-46a8-833d-151a421e5382.jpg?v=1629746248"},"aspect_ratio":1.0,"height":3258,"media_type":"image","src":"https:\/\/cdn.shopify.com\/s\/files\/1\/0026\/0666\/1745\/products\/KS2080YD_DOG_product_detail_1_da158df3-9f5a-46a8-833d-151a421e5382.jpg?v=1629746248","width":3258},{"alt":"Funimal Nursery Floating Shelves Decorative Brackets","id":6878419615857,"position":2,"preview_image":{"aspect_ratio":1.002,"height":2496,"width":2500,"src":"https:\/\/cdn.shopify.com\/s\/files\/1\/0026\/0666\/1745\/products\/KS2080YD_DOG_product_main_2_reduced_0496a60b-a91c-49ef-9a04-25ae09b4e1eb.jpg?v=1629746256"},"aspect_ratio":1.002,"height":2496,"media_type":"image","src":"https:\/\/cdn.shopify.com\/s\/files\/1\/0026\/0666\/1745\/products\/KS2080YD_DOG_product_main_2_reduced_0496a60b-a91c-49ef-9a04-25ae09b4e1eb.jpg?v=1629746256","width":2500},{"alt":"Funimal Nursery Floating Shelves Decorative Brackets","id":6878408114289,"position":3,"preview_image":{"aspect_ratio":1.0,"height":3258,"width":3258,"src":"https:\/\/cdn.shopify.com\/s\/files\/1\/0026\/0666\/1745\/products\/KS2080OC_cat_shelf_2-pack_product_detail_ace3d62c-8a7e-4e7c-805a-287dc8872fe6.jpg?v=1629746267"},"aspect_ratio":1.0,"height":3258,"media_type":"image","src":"https:\/\/cdn.shopify.com\/s\/files\/1\/0026\/0666\/1745\/products\/KS2080OC_cat_shelf_2-pack_product_detail_ace3d62c-8a7e-4e7c-805a-287dc8872fe6.jpg?v=1629746267","width":3258},{"alt":"Funimal Nursery Floating Shelves Decorative Brackets","id":5897571991665,"position":4,"preview_image":{"aspect_ratio":1.0,"height":1200,"width":1200,"src":"https:\/\/cdn.shopify.com\/s\/files\/1\/0026\/0666\/1745\/products\/unnamed_3.jpg?v=1629746270"},"aspect_ratio":1.0,"height":1200,"media_type":"image","src":"https:\/\/cdn.shopify.com\/s\/files\/1\/0026\/0666\/1745\/products\/unnamed_3.jpg?v=1629746270","width":1200},{"alt":"Funimal Nursery Floating Shelves Decorative Brackets","id":4054919872625,"position":5,"preview_image":{"aspect_ratio":1.0,"height":1200,"width":1200,"src":"https:\/\/cdn.shopify.com\/s\/files\/1\/0026\/0666\/1745\/products\/KS_Cat_Life_1_Web.jpg?v=1629746273"},"aspect_ratio":1.0,"height":1200,"media_type":"image","src":"https:\/\/cdn.shopify.com\/s\/files\/1\/0026\/0666\/1745\/products\/KS_Cat_Life_1_Web.jpg?v=1629746273","width":1200},{"alt":"Funimal Nursery Floating Shelves Decorative Brackets","id":6878416666737,"position":6,"preview_image":{"aspect_ratio":1.0,"height":3258,"width":3258,"src":"https:\/\/cdn.shopify.com\/s\/files\/1\/0026\/0666\/1745\/products\/Funimals_Pig_bracket_1_1_c406d079-d0da-40cc-b279-41d0522792c6.jpg?v=1629746277"},"aspect_ratio":1.0,"height":3258,"media_type":"image","src":"https:\/\/cdn.shopify.com\/s\/files\/1\/0026\/0666\/1745\/products\/Funimals_Pig_bracket_1_1_c406d079-d0da-40cc-b279-41d0522792c6.jpg?v=1629746277","width":3258},{"alt":"Funimal Nursery Floating Shelves Decorative Brackets","id":6878424596593,"position":7,"preview_image":{"aspect_ratio":1.0,"height":3248,"width":3248,"src":"https:\/\/cdn.shopify.com\/s\/files\/1\/0026\/0666\/1745\/products\/Funimals_Pig_bracket_2_5a4724fe-f091-4e78-af62-4fbe4d21777f.jpg?v=1629746280"},"aspect_ratio":1.0,"height":3248,"media_type":"image","src":"https:\/\/cdn.shopify.com\/s\/files\/1\/0026\/0666\/1745\/products\/Funimals_Pig_bracket_2_5a4724fe-f091-4e78-af62-4fbe4d21777f.jpg?v=1629746280","width":3248},{"alt":"Funimal Nursery Floating Shelves Decorative Brackets","id":5897571762289,"position":8,"preview_image":{"aspect_ratio":1.0,"height":1200,"width":1200,"src":"https:\/\/cdn.shopify.com\/s\/files\/1\/0026\/0666\/1745\/products\/unnamed_10.jpg?v=1629746285"},"aspect_ratio":1.0,"height":1200,"media_type":"image","src":"https:\/\/cdn.shopify.com\/s\/files\/1\/0026\/0666\/1745\/products\/unnamed_10.jpg?v=1629746285","width":1200},{"alt":"Funimal Nursery Floating Shelves Decorative Brackets","id":5897572024433,"position":9,"preview_image":{"aspect_ratio":1.0,"height":1200,"width":1200,"src":"https:\/\/cdn.shopify.com\/s\/files\/1\/0026\/0666\/1745\/products\/unnamed_2.jpg?v=1629746288"},"aspect_ratio":1.0,"height":1200,"media_type":"image","src":"https:\/\/cdn.shopify.com\/s\/files\/1\/0026\/0666\/1745\/products\/unnamed_2.jpg?v=1629746288","width":1200},{"alt":"Funimal Nursery Floating Shelves Decorative Brackets","id":5897571696753,"position":10,"preview_image":{"aspect_ratio":1.0,"height":1200,"width":1200,"src":"https:\/\/cdn.shopify.com\/s\/files\/1\/0026\/0666\/1745\/products\/unnamed_13_a3793233-b4b1-4e94-95d0-08bc94c59c22.jpg?v=1629746290"},"aspect_ratio":1.0,"height":1200,"media_type":"image","src":"https:\/\/cdn.shopify.com\/s\/files\/1\/0026\/0666\/1745\/products\/unnamed_13_a3793233-b4b1-4e94-95d0-08bc94c59c22.jpg?v=1629746290","width":1200},{"alt":"Funimal Nursery Floating Shelves Decorative Brackets","id":5897571827825,"position":11,"preview_image":{"aspect_ratio":1.0,"height":1200,"width":1200,"src":"https:\/\/cdn.shopify.com\/s\/files\/1\/0026\/0666\/1745\/products\/unnamed_8.jpg?v=1629746293"},"aspect_ratio":1.0,"height":1200,"media_type":"image","src":"https:\/\/cdn.shopify.com\/s\/files\/1\/0026\/0666\/1745\/products\/unnamed_8.jpg?v=1629746293","width":1200},{"alt":"Funimal Nursery Floating Shelves Decorative Brackets","id":5897571958897,"position":12,"preview_image":{"aspect_ratio":1.0,"height":1200,"width":1200,"src":"https:\/\/cdn.shopify.com\/s\/files\/1\/0026\/0666\/1745\/products\/unnamed_4.jpg?v=1629746296"},"aspect_ratio":1.0,"height":1200,"media_type":"image","src":"https:\/\/cdn.shopify.com\/s\/files\/1\/0026\/0666\/1745\/products\/unnamed_4.jpg?v=1629746296","width":1200},{"alt":"Funimal Nursery Floating Shelves Decorative Brackets","id":5897571926129,"position":13,"preview_image":{"aspect_ratio":1.0,"height":1200,"width":1200,"src":"https:\/\/cdn.shopify.com\/s\/files\/1\/0026\/0666\/1745\/products\/unnamed_5.jpg?v=1629746299"},"aspect_ratio":1.0,"height":1200,"media_type":"image","src":"https:\/\/cdn.shopify.com\/s\/files\/1\/0026\/0666\/1745\/products\/unnamed_5.jpg?v=1629746299","width":1200}],"requires_selling_plan":false,"selling_plan_groups":[],"content":"\u003cp\u003eAvailable in a range of colorful animal designs, our floating wall bookshelf brackets adds personality to any nursery. As functional as they are fun, our nursery shelf brackets safely hold up to 44 lbs each. Measuring 8" deep and complete, there's plenty of storage space for books, toys and your go-to care products\u003c\/p\u003e"}
Funimal Nursery Floating Shelves Decorative Brackets, Animals
Nursery Floating Shelf Brackets
Bring your dream nursery to life with delta's Funimal Floating Wall Shelf brackets. Available in a range of whimsical animal designs, they're a great alternative to plain white shelving. From a yellow dog to a orange cate, they neatly display the day-to-day essentials while stimulating your child's imagination! You can easily grab what you need while keeping things off-limits to kids.
---
Features
Whimsical Design
Available in a range of colorful animal designs, our floating wall bookshelf brackets add personality to any nursery.
Hassle-Free Installation
Designed with busy parents in mind, our nursery bookshelf brackets installs in just a matter of minutes. Mounting hardware and easy-to-follow instructions are included with purchase.
Organization Made Easy
Measuring 8" deep, simply add your own shelf board to create storage space for books, toys and your go-to care products.
Versatile & Functional
As functional as they are fun, our nursery shelves brackets safely hold up to 44 lbs each.
---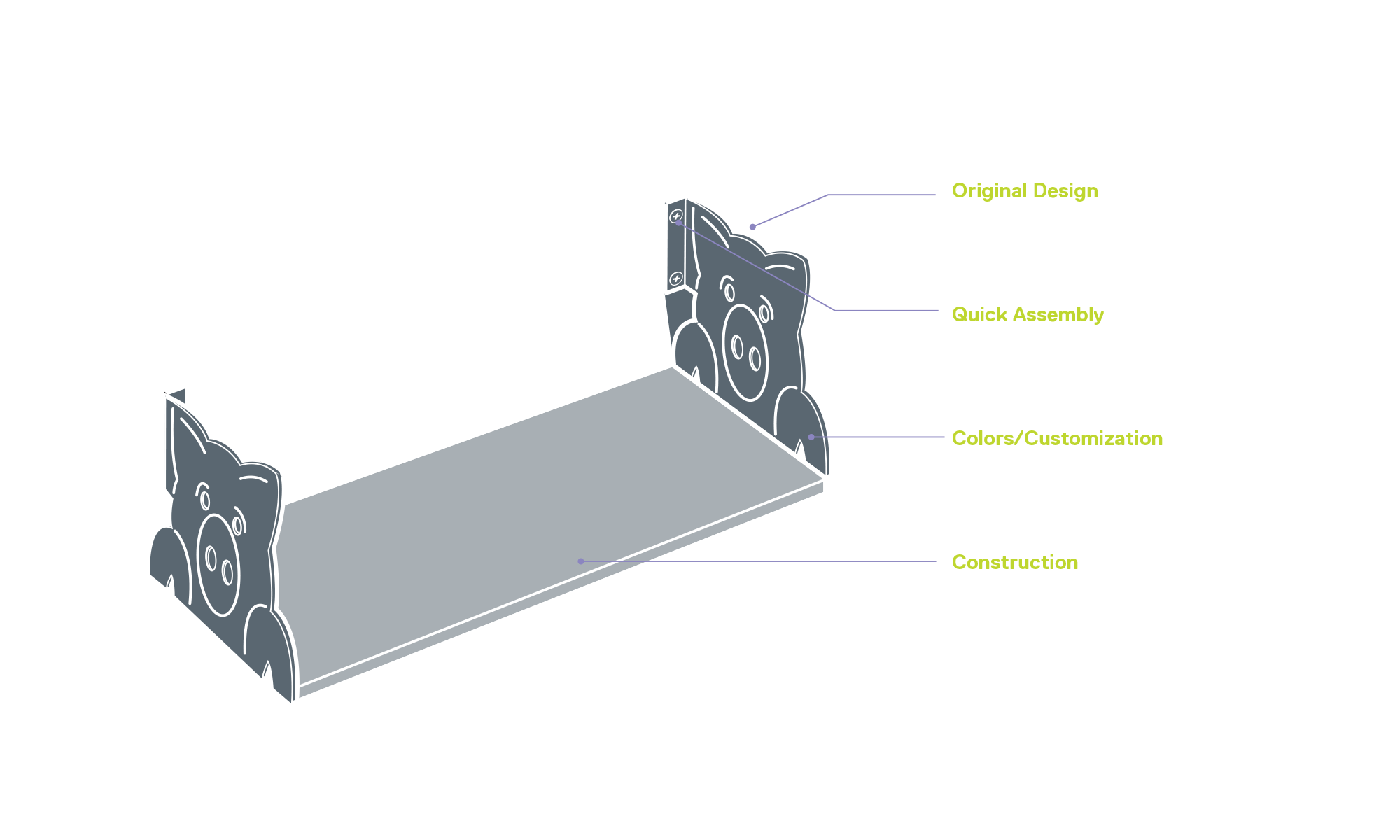 ---
Delta Guarantee
We put a lot of effort into the design, engineering and materials that go into every product so they will look great, work well and last. If something goes wrong, we will do our best to help solve the problem.