{"id":4572806217841,"title":"Carbylon Bottle Cage","handle":"carbolyn-bottle-cage","description":"\u003cp\u003ePerfect accessory for any race or triathalon. Carbon construction and ultra lightweight -  only 16 gms! Easily mounted to hold any standard water bottle.\u003c\/p\u003e","published_at":"2021-01-06T16:15:19-05:00","created_at":"2020-09-16T15:45:52-04:00","vendor":"Delta Cycle, Inc.","type":"Hydration Accessories","tags":[],"price":2799,"price_min":2799,"price_max":2799,"available":true,"price_varies":false,"compare_at_price":null,"compare_at_price_min":0,"compare_at_price_max":0,"compare_at_price_varies":false,"variants":[{"id":32047391342705,"title":"Default Title","option1":"Default Title","option2":null,"option3":null,"sku":"BT6000","requires_shipping":true,"taxable":true,"featured_image":null,"available":true,"name":"Carbylon Bottle Cage","public_title":null,"options":["Default Title"],"price":2799,"weight":0,"compare_at_price":null,"inventory_management":"shopify","barcode":"","requires_selling_plan":false,"selling_plan_allocations":[]}],"images":["\/\/cdn.shopify.com\/s\/files\/1\/0026\/0666\/1745\/products\/BT6000_Carbylon_Bottle_Cage_delta_web_81821.jpg?v=1629404509","\/\/cdn.shopify.com\/s\/files\/1\/0026\/0666\/1745\/products\/BT6000_Carbylon_Bottle_Cage_image_2_14grams_81821.jpg?v=1629404500","\/\/cdn.shopify.com\/s\/files\/1\/0026\/0666\/1745\/products\/BT6000_Carbylon_Bottle_Cage_image_3_design_81821.jpg?v=1629404500","\/\/cdn.shopify.com\/s\/files\/1\/0026\/0666\/1745\/products\/BT6000_Carbylon_Bottle_Cage_image_4_product_81821.jpg?v=1629404501","\/\/cdn.shopify.com\/s\/files\/1\/0026\/0666\/1745\/products\/BT6000_Carbylon_Bottle_Cage_image_5_install_81821.jpg?v=1629404501","\/\/cdn.shopify.com\/s\/files\/1\/0026\/0666\/1745\/products\/BT6000_Carbylon_Bottle_Cage_image_6_lifestyle_81821.jpg?v=1629404503","\/\/cdn.shopify.com\/s\/files\/1\/0026\/0666\/1745\/products\/BT6000_Carbylon_Bottle_Cage_image_7_most_bottles_81821.jpg?v=1629404500","\/\/cdn.shopify.com\/s\/files\/1\/0026\/0666\/1745\/products\/BT6000_Carbylon_Bottle_Cage_image_8_insitu_81821.jpg?v=1629404502","\/\/cdn.shopify.com\/s\/files\/1\/0026\/0666\/1745\/products\/BT6000_Carbylon_Bottle_Cage_image_9_slotted_81821.jpg?v=1629404501"],"featured_image":"\/\/cdn.shopify.com\/s\/files\/1\/0026\/0666\/1745\/products\/BT6000_Carbylon_Bottle_Cage_delta_web_81821.jpg?v=1629404509","options":["Title"],"media":[{"alt":"Carbylon Bottle Cage","id":21228636373105,"position":1,"preview_image":{"aspect_ratio":1.0,"height":2000,"width":2000,"src":"https:\/\/cdn.shopify.com\/s\/files\/1\/0026\/0666\/1745\/products\/BT6000_Carbylon_Bottle_Cage_delta_web_81821.jpg?v=1629404509"},"aspect_ratio":1.0,"height":2000,"media_type":"image","src":"https:\/\/cdn.shopify.com\/s\/files\/1\/0026\/0666\/1745\/products\/BT6000_Carbylon_Bottle_Cage_delta_web_81821.jpg?v=1629404509","width":2000},{"alt":"Carbylon Bottle Cage","id":21228636045425,"position":2,"preview_image":{"aspect_ratio":1.0,"height":2000,"width":2000,"src":"https:\/\/cdn.shopify.com\/s\/files\/1\/0026\/0666\/1745\/products\/BT6000_Carbylon_Bottle_Cage_image_2_14grams_81821.jpg?v=1629404500"},"aspect_ratio":1.0,"height":2000,"media_type":"image","src":"https:\/\/cdn.shopify.com\/s\/files\/1\/0026\/0666\/1745\/products\/BT6000_Carbylon_Bottle_Cage_image_2_14grams_81821.jpg?v=1629404500","width":2000},{"alt":"Carbylon Bottle Cage","id":21228636078193,"position":3,"preview_image":{"aspect_ratio":1.0,"height":2000,"width":2000,"src":"https:\/\/cdn.shopify.com\/s\/files\/1\/0026\/0666\/1745\/products\/BT6000_Carbylon_Bottle_Cage_image_3_design_81821.jpg?v=1629404500"},"aspect_ratio":1.0,"height":2000,"media_type":"image","src":"https:\/\/cdn.shopify.com\/s\/files\/1\/0026\/0666\/1745\/products\/BT6000_Carbylon_Bottle_Cage_image_3_design_81821.jpg?v=1629404500","width":2000},{"alt":"Carbylon Bottle Cage","id":21228636110961,"position":4,"preview_image":{"aspect_ratio":1.0,"height":2000,"width":2000,"src":"https:\/\/cdn.shopify.com\/s\/files\/1\/0026\/0666\/1745\/products\/BT6000_Carbylon_Bottle_Cage_image_4_product_81821.jpg?v=1629404501"},"aspect_ratio":1.0,"height":2000,"media_type":"image","src":"https:\/\/cdn.shopify.com\/s\/files\/1\/0026\/0666\/1745\/products\/BT6000_Carbylon_Bottle_Cage_image_4_product_81821.jpg?v=1629404501","width":2000},{"alt":"Carbylon Bottle Cage","id":21228636143729,"position":5,"preview_image":{"aspect_ratio":1.0,"height":2000,"width":2000,"src":"https:\/\/cdn.shopify.com\/s\/files\/1\/0026\/0666\/1745\/products\/BT6000_Carbylon_Bottle_Cage_image_5_install_81821.jpg?v=1629404501"},"aspect_ratio":1.0,"height":2000,"media_type":"image","src":"https:\/\/cdn.shopify.com\/s\/files\/1\/0026\/0666\/1745\/products\/BT6000_Carbylon_Bottle_Cage_image_5_install_81821.jpg?v=1629404501","width":2000},{"alt":"Carbylon Bottle Cage","id":21228636176497,"position":6,"preview_image":{"aspect_ratio":1.0,"height":2000,"width":2000,"src":"https:\/\/cdn.shopify.com\/s\/files\/1\/0026\/0666\/1745\/products\/BT6000_Carbylon_Bottle_Cage_image_6_lifestyle_81821.jpg?v=1629404503"},"aspect_ratio":1.0,"height":2000,"media_type":"image","src":"https:\/\/cdn.shopify.com\/s\/files\/1\/0026\/0666\/1745\/products\/BT6000_Carbylon_Bottle_Cage_image_6_lifestyle_81821.jpg?v=1629404503","width":2000},{"alt":"Carbylon Bottle Cage","id":21228636209265,"position":7,"preview_image":{"aspect_ratio":1.0,"height":2000,"width":2000,"src":"https:\/\/cdn.shopify.com\/s\/files\/1\/0026\/0666\/1745\/products\/BT6000_Carbylon_Bottle_Cage_image_7_most_bottles_81821.jpg?v=1629404500"},"aspect_ratio":1.0,"height":2000,"media_type":"image","src":"https:\/\/cdn.shopify.com\/s\/files\/1\/0026\/0666\/1745\/products\/BT6000_Carbylon_Bottle_Cage_image_7_most_bottles_81821.jpg?v=1629404500","width":2000},{"alt":"Carbylon Bottle Cage","id":21228636242033,"position":8,"preview_image":{"aspect_ratio":1.0,"height":2000,"width":2000,"src":"https:\/\/cdn.shopify.com\/s\/files\/1\/0026\/0666\/1745\/products\/BT6000_Carbylon_Bottle_Cage_image_8_insitu_81821.jpg?v=1629404502"},"aspect_ratio":1.0,"height":2000,"media_type":"image","src":"https:\/\/cdn.shopify.com\/s\/files\/1\/0026\/0666\/1745\/products\/BT6000_Carbylon_Bottle_Cage_image_8_insitu_81821.jpg?v=1629404502","width":2000},{"alt":"Carbylon Bottle Cage","id":21228636274801,"position":9,"preview_image":{"aspect_ratio":1.0,"height":2000,"width":2000,"src":"https:\/\/cdn.shopify.com\/s\/files\/1\/0026\/0666\/1745\/products\/BT6000_Carbylon_Bottle_Cage_image_9_slotted_81821.jpg?v=1629404501"},"aspect_ratio":1.0,"height":2000,"media_type":"image","src":"https:\/\/cdn.shopify.com\/s\/files\/1\/0026\/0666\/1745\/products\/BT6000_Carbylon_Bottle_Cage_image_9_slotted_81821.jpg?v=1629404501","width":2000}],"requires_selling_plan":false,"selling_plan_groups":[],"content":"\u003cp\u003ePerfect accessory for any race or triathalon. Carbon construction and ultra lightweight -  only 16 gms! Easily mounted to hold any standard water bottle.\u003c\/p\u003e"}
Carbylon Bottle Cage
Design
Delta Cycle concentrates on providing innovative and environmentally friendly equipment for recreational, commuting, and touring cyclists. The Carbylon bottle cage is lighter, stronger and sleeker than the others due to the carbon nylon composite material used. A sleek and practical addition to your bicycle. Our specialized water bottle cage is the perfect upgrade for any cycling enthusiast. A securely attached water bottle is an often overlooked, yet crucial component to all bicycles, as easy access to hydration is a make or break factor on any ride. Ultimate strength and an aerodynamic design helps to hold most standard, smaller bottles, and cups securely. No more worry of a bent frame letting your source of hydration slip from its cage. Available in a stylish matte black. Includes 2 mounting screws and one 17 gram bottle cage.
---
Features
Quick Assembly
The last bike bottle holder you'll need to buy! We feature a carbon fiber + nylon composite frame for ultimate strength and with a weight of only 0.6 oz (17 grams). This hydration holder will add the least amount of weight to your bicycle and will still be the most durable on the road.
Superior Material
Oftentimes water cages are made of inferior materials which bend, chip, or fall apart. No more dealing with a bent aluminum water bottle cage that damages your bottle or allows it to fall out on bumpy terrain
Versatile
Perfect for road touring, commuting, mountain biking or leisurely rides. Our water bottle holder is compatible with standard sized water bottles that have a 2.83-2.91 in (72-74 mm) diameter and features a stylish minimalist design.
Easy To Install
Easily mounts to almost any bike. Installation won't take long with our straightforward instructions that anyone can follow & using the included 2 stainless steel screws. Use a 4mm hex key (not included) to fasten the cage. Note: bike frame requires threaded holes for installation of cages.
Weight
Ultra lightweight - Only 16g
---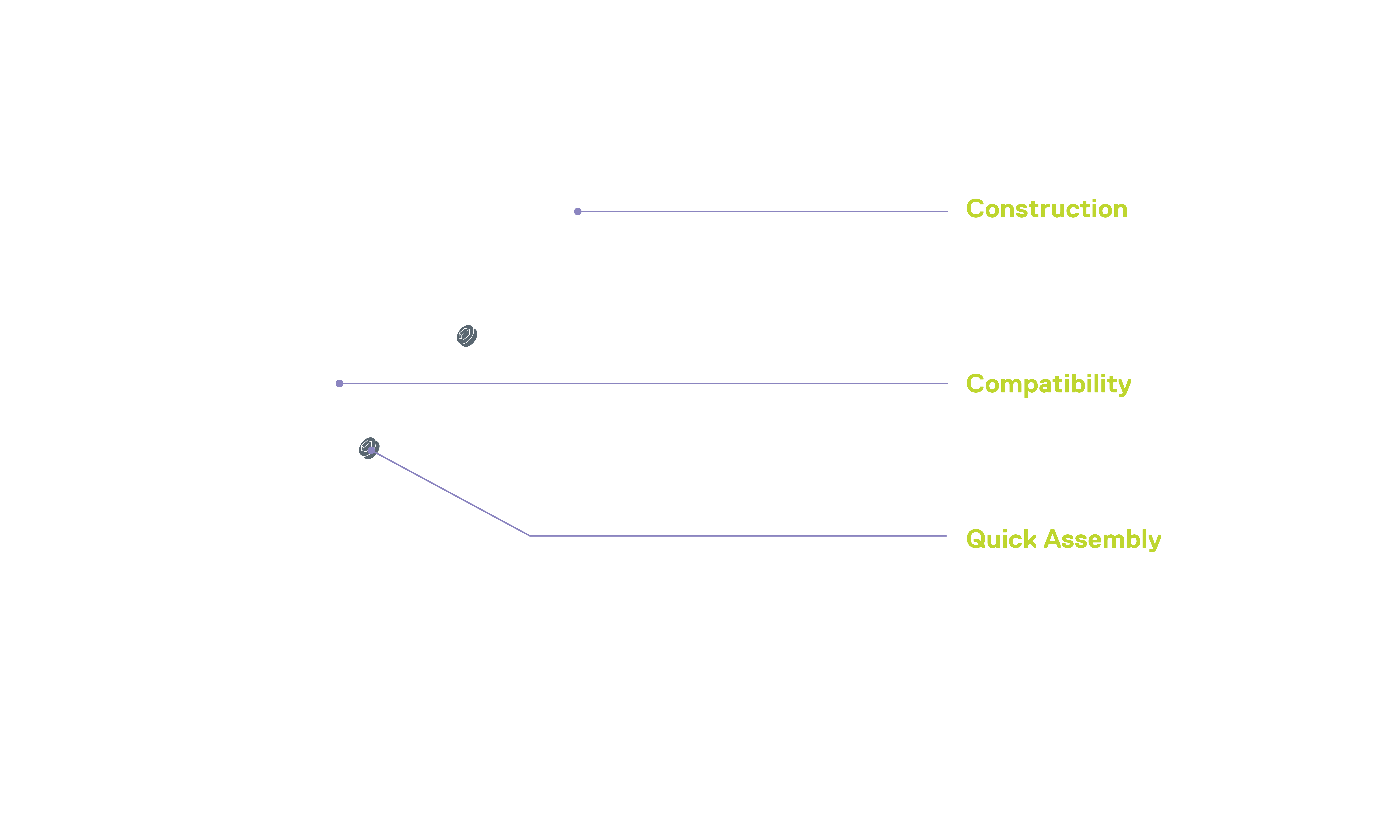 ---
Delta Guarantee
We put a lot of effort into the design, engineering and materials that go into every product so they will look great, work well and last. If something goes wrong, we will do our best to help solve the problem.