{"id":3977973629041,"title":"Single Bike Wall Mount Rack","handle":"single-bike-wall-mount-rack","description":"\u003cp\u003eHolds one bike by rim. Tire tray secures rear wheel and protects wall. Elegant design looks good in any room or garage. Available in black or silver for regular or fat tires. Leonardo single bike storage hook.\u003c\/p\u003e","published_at":"2019-07-29T18:27:28-04:00","created_at":"2019-07-29T18:27:29-04:00","vendor":"Delta Cycle, Inc.","type":"Bike racks","tags":[],"price":1899,"price_min":1899,"price_max":2699,"available":true,"price_varies":true,"compare_at_price":null,"compare_at_price_min":0,"compare_at_price_max":0,"compare_at_price_varies":false,"variants":[{"id":29474914271345,"title":"Hook Only \/ Silver","option1":"Hook Only","option2":"Silver","option3":null,"sku":"RS4000","requires_shipping":true,"taxable":true,"featured_image":{"id":12180403978353,"product_id":3977973629041,"position":1,"created_at":"2019-08-29T08:40:17-04:00","updated_at":"2020-09-11T13:53:31-04:00","alt":null,"width":1200,"height":1200,"src":"https:\/\/cdn.shopify.com\/s\/files\/1\/0026\/0666\/1745\/products\/RS4007_Prod_Web.jpg?v=1599846811","variant_ids":[29474914271345]},"available":true,"name":"Single Bike Wall Mount Rack - Hook Only \/ Silver","public_title":"Hook Only \/ Silver","options":["Hook Only","Silver"],"price":1899,"weight":0,"compare_at_price":null,"inventory_management":"shopify","barcode":null,"featured_media":{"alt":null,"id":4049161027697,"position":1,"preview_image":{"aspect_ratio":1.0,"height":1200,"width":1200,"src":"https:\/\/cdn.shopify.com\/s\/files\/1\/0026\/0666\/1745\/products\/RS4007_Prod_Web.jpg?v=1570282637"}},"requires_selling_plan":false,"selling_plan_allocations":[]},{"id":29474914402417,"title":"Hook and Tray \/ Black","option1":"Hook and Tray","option2":"Black","option3":null,"sku":"RS4007B","requires_shipping":true,"taxable":true,"featured_image":{"id":12823493214321,"product_id":3977973629041,"position":2,"created_at":"2019-09-30T11:10:06-04:00","updated_at":"2020-09-11T13:53:31-04:00","alt":null,"width":1200,"height":1200,"src":"https:\/\/cdn.shopify.com\/s\/files\/1\/0026\/0666\/1745\/products\/unnamed_33.jpg?v=1599846811","variant_ids":[29474914402417]},"available":true,"name":"Single Bike Wall Mount Rack - Hook and Tray \/ Black","public_title":"Hook and Tray \/ Black","options":["Hook and Tray","Black"],"price":2699,"weight":0,"compare_at_price":null,"inventory_management":"shopify","barcode":"","featured_media":{"alt":null,"id":4076778717297,"position":2,"preview_image":{"aspect_ratio":1.0,"height":1200,"width":1200,"src":"https:\/\/cdn.shopify.com\/s\/files\/1\/0026\/0666\/1745\/products\/unnamed_33.jpg?v=1570298334"}},"requires_selling_plan":false,"selling_plan_allocations":[]},{"id":29474914435185,"title":"Hook and Tray \/ Silver","option1":"Hook and Tray","option2":"Silver","option3":null,"sku":"RS4007C","requires_shipping":true,"taxable":true,"featured_image":{"id":12859762507889,"product_id":3977973629041,"position":3,"created_at":"2019-10-07T13:49:41-04:00","updated_at":"2020-09-11T13:53:31-04:00","alt":null,"width":1200,"height":1200,"src":"https:\/\/cdn.shopify.com\/s\/files\/1\/0026\/0666\/1745\/products\/unnamed_48.jpg?v=1599846811","variant_ids":[29474914435185]},"available":true,"name":"Single Bike Wall Mount Rack - Hook and Tray \/ Silver","public_title":"Hook and Tray \/ Silver","options":["Hook and Tray","Silver"],"price":2699,"weight":0,"compare_at_price":null,"inventory_management":"shopify","barcode":null,"featured_media":{"alt":null,"id":4083997474929,"position":3,"preview_image":{"aspect_ratio":1.0,"height":1200,"width":1200,"src":"https:\/\/cdn.shopify.com\/s\/files\/1\/0026\/0666\/1745\/products\/unnamed_48.jpg?v=1570470581"}},"requires_selling_plan":false,"selling_plan_allocations":[]}],"images":["\/\/cdn.shopify.com\/s\/files\/1\/0026\/0666\/1745\/products\/RS4007_Prod_Web.jpg?v=1599846811","\/\/cdn.shopify.com\/s\/files\/1\/0026\/0666\/1745\/products\/unnamed_33.jpg?v=1599846811","\/\/cdn.shopify.com\/s\/files\/1\/0026\/0666\/1745\/products\/unnamed_48.jpg?v=1599846811","\/\/cdn.shopify.com\/s\/files\/1\/0026\/0666\/1745\/products\/RS4007_leonardo_AMZ_5_sleek_modern_insitu_3.jpg?v=1599876120","\/\/cdn.shopify.com\/s\/files\/1\/0026\/0666\/1745\/products\/RS4007_FullBike_Web.jpg?v=1599846825","\/\/cdn.shopify.com\/s\/files\/1\/0026\/0666\/1745\/products\/RS4007_CloseUp_Web.jpg?v=1599846825","\/\/cdn.shopify.com\/s\/files\/1\/0026\/0666\/1745\/products\/RS4007_leonardo_AMZ_6_tire_tray_protects_walls_2.jpg?v=1599876120","\/\/cdn.shopify.com\/s\/files\/1\/0026\/0666\/1745\/products\/RS4007_leonardo_AMZ_2_installs_in-min_1.jpg?v=1599876120","\/\/cdn.shopify.com\/s\/files\/1\/0026\/0666\/1745\/products\/RS4007_leonardo_AMZ_3_space_saver_2_3_1.jpg?v=1599876120","\/\/cdn.shopify.com\/s\/files\/1\/0026\/0666\/1745\/products\/RS4007_leonardo_AMZ_4_not_a_scratch_silv_4.jpg?v=1599876120","\/\/cdn.shopify.com\/s\/files\/1\/0026\/0666\/1745\/products\/RS4007_leonardo_AMZ_1_hero_also_in_black_icon_5.jpg?v=1599876120","\/\/cdn.shopify.com\/s\/files\/1\/0026\/0666\/1745\/products\/RS4007_leonardo_AMZ_8_fit_guide_SILVER_4.jpg?v=1599876120"],"featured_image":"\/\/cdn.shopify.com\/s\/files\/1\/0026\/0666\/1745\/products\/RS4007_Prod_Web.jpg?v=1599846811","options":["Configuration","Color"],"media":[{"alt":null,"id":4049161027697,"position":1,"preview_image":{"aspect_ratio":1.0,"height":1200,"width":1200,"src":"https:\/\/cdn.shopify.com\/s\/files\/1\/0026\/0666\/1745\/products\/RS4007_Prod_Web.jpg?v=1570282637"},"aspect_ratio":1.0,"height":1200,"media_type":"image","src":"https:\/\/cdn.shopify.com\/s\/files\/1\/0026\/0666\/1745\/products\/RS4007_Prod_Web.jpg?v=1570282637","width":1200},{"alt":null,"id":4076778717297,"position":2,"preview_image":{"aspect_ratio":1.0,"height":1200,"width":1200,"src":"https:\/\/cdn.shopify.com\/s\/files\/1\/0026\/0666\/1745\/products\/unnamed_33.jpg?v=1570298334"},"aspect_ratio":1.0,"height":1200,"media_type":"image","src":"https:\/\/cdn.shopify.com\/s\/files\/1\/0026\/0666\/1745\/products\/unnamed_33.jpg?v=1570298334","width":1200},{"alt":null,"id":4083997474929,"position":3,"preview_image":{"aspect_ratio":1.0,"height":1200,"width":1200,"src":"https:\/\/cdn.shopify.com\/s\/files\/1\/0026\/0666\/1745\/products\/unnamed_48.jpg?v=1570470581"},"aspect_ratio":1.0,"height":1200,"media_type":"image","src":"https:\/\/cdn.shopify.com\/s\/files\/1\/0026\/0666\/1745\/products\/unnamed_48.jpg?v=1570470581","width":1200},{"alt":null,"id":7569330241649,"position":4,"preview_image":{"aspect_ratio":1.0,"height":2000,"width":2000,"src":"https:\/\/cdn.shopify.com\/s\/files\/1\/0026\/0666\/1745\/products\/RS4007_leonardo_AMZ_5_sleek_modern_insitu_3.jpg?v=1599846793"},"aspect_ratio":1.0,"height":2000,"media_type":"image","src":"https:\/\/cdn.shopify.com\/s\/files\/1\/0026\/0666\/1745\/products\/RS4007_leonardo_AMZ_5_sleek_modern_insitu_3.jpg?v=1599846793","width":2000},{"alt":null,"id":4049160962161,"position":5,"preview_image":{"aspect_ratio":1.0,"height":1200,"width":1200,"src":"https:\/\/cdn.shopify.com\/s\/files\/1\/0026\/0666\/1745\/products\/RS4007_FullBike_Web.jpg?v=1570282637"},"aspect_ratio":1.0,"height":1200,"media_type":"image","src":"https:\/\/cdn.shopify.com\/s\/files\/1\/0026\/0666\/1745\/products\/RS4007_FullBike_Web.jpg?v=1570282637","width":1200},{"alt":null,"id":4049160929393,"position":6,"preview_image":{"aspect_ratio":1.0,"height":1200,"width":1200,"src":"https:\/\/cdn.shopify.com\/s\/files\/1\/0026\/0666\/1745\/products\/RS4007_CloseUp_Web.jpg?v=1570282637"},"aspect_ratio":1.0,"height":1200,"media_type":"image","src":"https:\/\/cdn.shopify.com\/s\/files\/1\/0026\/0666\/1745\/products\/RS4007_CloseUp_Web.jpg?v=1570282637","width":1200},{"alt":null,"id":7569330143345,"position":7,"preview_image":{"aspect_ratio":1.0,"height":2000,"width":2000,"src":"https:\/\/cdn.shopify.com\/s\/files\/1\/0026\/0666\/1745\/products\/RS4007_leonardo_AMZ_6_tire_tray_protects_walls_2.jpg?v=1599846792"},"aspect_ratio":1.0,"height":2000,"media_type":"image","src":"https:\/\/cdn.shopify.com\/s\/files\/1\/0026\/0666\/1745\/products\/RS4007_leonardo_AMZ_6_tire_tray_protects_walls_2.jpg?v=1599846792","width":2000},{"alt":null,"id":7569330208881,"position":8,"preview_image":{"aspect_ratio":1.0,"height":2000,"width":2000,"src":"https:\/\/cdn.shopify.com\/s\/files\/1\/0026\/0666\/1745\/products\/RS4007_leonardo_AMZ_2_installs_in-min_1.jpg?v=1599846793"},"aspect_ratio":1.0,"height":2000,"media_type":"image","src":"https:\/\/cdn.shopify.com\/s\/files\/1\/0026\/0666\/1745\/products\/RS4007_leonardo_AMZ_2_installs_in-min_1.jpg?v=1599846793","width":2000},{"alt":null,"id":7569330274417,"position":9,"preview_image":{"aspect_ratio":1.0,"height":2000,"width":2000,"src":"https:\/\/cdn.shopify.com\/s\/files\/1\/0026\/0666\/1745\/products\/RS4007_leonardo_AMZ_3_space_saver_2_3_1.jpg?v=1599846793"},"aspect_ratio":1.0,"height":2000,"media_type":"image","src":"https:\/\/cdn.shopify.com\/s\/files\/1\/0026\/0666\/1745\/products\/RS4007_leonardo_AMZ_3_space_saver_2_3_1.jpg?v=1599846793","width":2000},{"alt":null,"id":7569330307185,"position":10,"preview_image":{"aspect_ratio":1.0,"height":2000,"width":2000,"src":"https:\/\/cdn.shopify.com\/s\/files\/1\/0026\/0666\/1745\/products\/RS4007_leonardo_AMZ_4_not_a_scratch_silv_4.jpg?v=1599846794"},"aspect_ratio":1.0,"height":2000,"media_type":"image","src":"https:\/\/cdn.shopify.com\/s\/files\/1\/0026\/0666\/1745\/products\/RS4007_leonardo_AMZ_4_not_a_scratch_silv_4.jpg?v=1599846794","width":2000},{"alt":null,"id":7569330176113,"position":11,"preview_image":{"aspect_ratio":1.0,"height":2000,"width":2000,"src":"https:\/\/cdn.shopify.com\/s\/files\/1\/0026\/0666\/1745\/products\/RS4007_leonardo_AMZ_1_hero_also_in_black_icon_5.jpg?v=1599846794"},"aspect_ratio":1.0,"height":2000,"media_type":"image","src":"https:\/\/cdn.shopify.com\/s\/files\/1\/0026\/0666\/1745\/products\/RS4007_leonardo_AMZ_1_hero_also_in_black_icon_5.jpg?v=1599846794","width":2000},{"alt":null,"id":7569330339953,"position":12,"preview_image":{"aspect_ratio":1.0,"height":2000,"width":2000,"src":"https:\/\/cdn.shopify.com\/s\/files\/1\/0026\/0666\/1745\/products\/RS4007_leonardo_AMZ_8_fit_guide_SILVER_4.jpg?v=1599846793"},"aspect_ratio":1.0,"height":2000,"media_type":"image","src":"https:\/\/cdn.shopify.com\/s\/files\/1\/0026\/0666\/1745\/products\/RS4007_leonardo_AMZ_8_fit_guide_SILVER_4.jpg?v=1599846793","width":2000}],"requires_selling_plan":false,"selling_plan_groups":[],"content":"\u003cp\u003eHolds one bike by rim. Tire tray secures rear wheel and protects wall. Elegant design looks good in any room or garage. Available in black or silver for regular or fat tires. Leonardo single bike storage hook.\u003c\/p\u003e"}
Single Bike Wall Mount Rack
Modern & clean bike storage
Storage for almost any bike.
Modern design looks good in any room.
---
Features
Trusted Quality
For more than 30 years, the delta Single Bike Storage Hook has been the product you can rely on to hold your bicycle.
Simple Installation
Easily mount in any wall joint or stud. All mounting hardware included. Install in minutes, no assembly required.
Space Saving
Store your bike vertically. Keep the garage and floors cleared. Rubber sleeve prevents tire damage. Protective tire tray saves your walls from tire marks.
Premium Look and Design
Featuring durable powdercoated silver finish and non-slip rubber coating protection, the Leonardo is elegantly designed to look good in any home, apartment, condo or office environment.
Fits any bike
Holds one bike up to 2.5" tire rim. Suitable for bikes up to 40 lbs. For tires over 2.5" shop Single Bike Hook for fat tire.
Dimensions
11" x 3.5" x 5" / 280 x 84 x 131 mm
---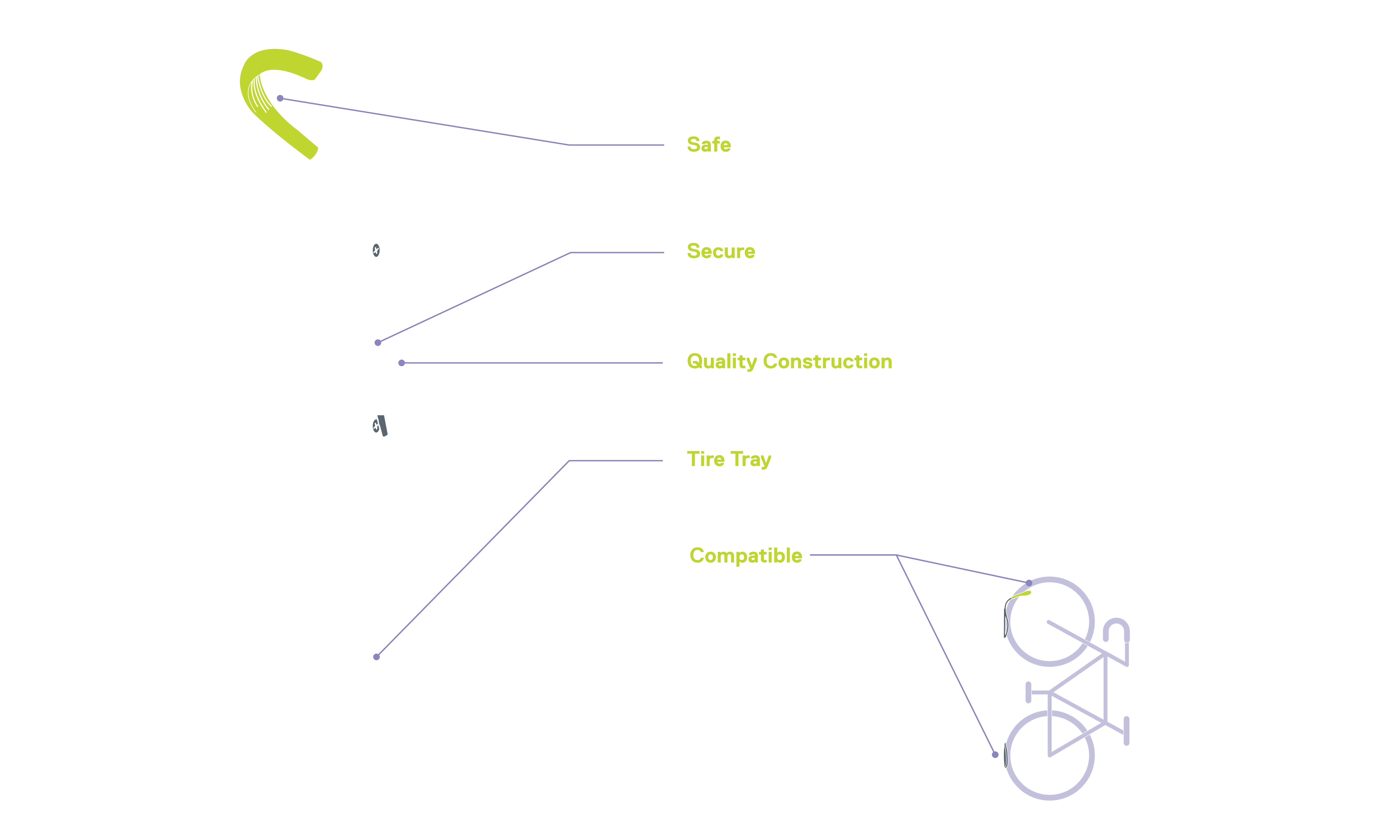 ---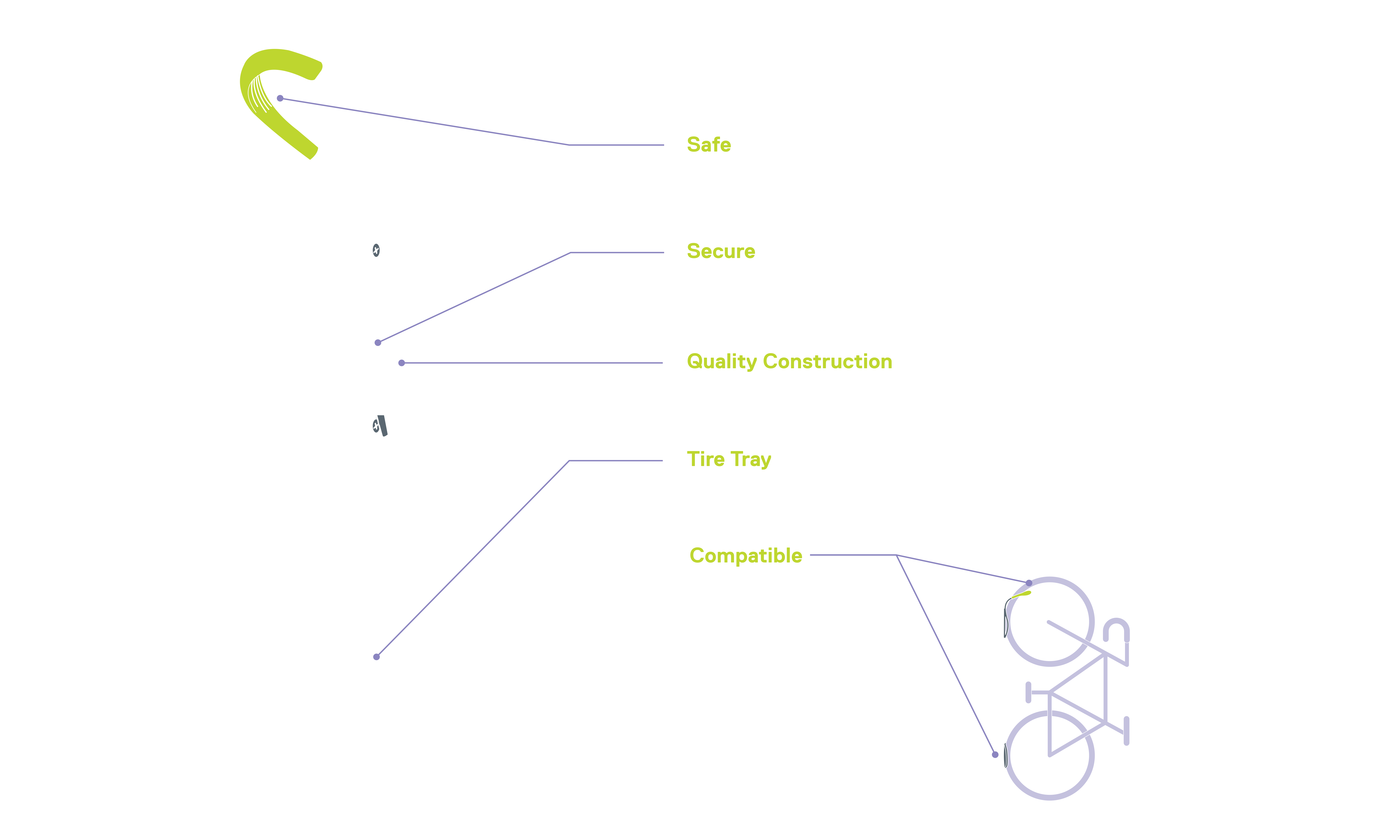 ---
Delta Guarantee
We put a lot of effort into the design, engineering and materials that go into every product so they will look great, work well and last. That's why we offer a limited lifetime warranty that covers defects in workmanship and materials. If something goes wrong, we will do our best to help solve the problem.