{"id":4364449448049,"title":"Floating Shelves (2 Pack), White, 1\" Thick, 2 Sizes Available","handle":"floating-shelves-set-of-2-white-2-sizes-available","description":"\u003cdiv class=\"index-section--flush powr-popup\" id=\"53411b5d_1577809101\"\u003e\u003c\/div\u003e \u003cp\u003eClean and bold shelf with no visible brackets. Easy installation using included InviZibolt in drill chuck. Multiple sizes and colors available. All shelves made sustainably from certified reforested MDP.\u003c\/p\u003e","published_at":"2019-12-23T16:41:06-05:00","created_at":"2019-12-23T16:41:06-05:00","vendor":"Delta Cycle, Inc.","type":"Shelving","tags":["shelvingdiscbadgev301"],"price":4899,"price_min":4899,"price_max":5899,"available":true,"price_varies":true,"compare_at_price":5999,"compare_at_price_min":5999,"compare_at_price_max":7199,"compare_at_price_varies":true,"variants":[{"id":31260445114481,"title":"8\" D x 24\" W x 1\" H","option1":"8\" D x 24\" W x 1\" H","option2":null,"option3":null,"sku":"FS2060EBW-2","requires_shipping":true,"taxable":true,"featured_image":null,"available":true,"name":"Floating Shelves (2 Pack), White, 1\" Thick, 2 Sizes Available - 8\" D x 24\" W x 1\" H","public_title":"8\" D x 24\" W x 1\" H","options":["8\" D x 24\" W x 1\" H"],"price":4899,"weight":0,"compare_at_price":5999,"inventory_management":"shopify","barcode":"","requires_selling_plan":false,"selling_plan_allocations":[]},{"id":31260445147249,"title":"8\" D x 36\" W x 1\" H","option1":"8\" D x 36\" W x 1\" H","option2":null,"option3":null,"sku":"FS2090EBW-2","requires_shipping":true,"taxable":true,"featured_image":null,"available":true,"name":"Floating Shelves (2 Pack), White, 1\" Thick, 2 Sizes Available - 8\" D x 36\" W x 1\" H","public_title":"8\" D x 36\" W x 1\" H","options":["8\" D x 36\" W x 1\" H"],"price":5899,"weight":0,"compare_at_price":7199,"inventory_management":"shopify","barcode":"","requires_selling_plan":false,"selling_plan_allocations":[]}],"images":["\/\/cdn.shopify.com\/s\/files\/1\/0026\/0666\/1745\/products\/floating-shelves-2-pack-white-1-thick-sizes-available-shelving-316.jpg?v=1614267706","\/\/cdn.shopify.com\/s\/files\/1\/0026\/0666\/1745\/products\/floating-shelves-2-pack-white-1-thick-sizes-available-shelving-969.jpg?v=1594321340","\/\/cdn.shopify.com\/s\/files\/1\/0026\/0666\/1745\/products\/floating-shelves-2-pack-white-1-thick-sizes-available-shelving_1_141.jpg?v=1591108396","\/\/cdn.shopify.com\/s\/files\/1\/0026\/0666\/1745\/products\/floating-shelves-2-pack-white-1-thick-sizes-available-shelving_2_297.jpg?v=1591108401","\/\/cdn.shopify.com\/s\/files\/1\/0026\/0666\/1745\/products\/floating-shelves-2-pack-white-1-thick-sizes-available-shelving_3_431.jpg?v=1591108405","\/\/cdn.shopify.com\/s\/files\/1\/0026\/0666\/1745\/products\/floating-shelves-2-pack-white-1-thick-sizes-available-shelving_4_461.jpg?v=1591108410","\/\/cdn.shopify.com\/s\/files\/1\/0026\/0666\/1745\/products\/floating-shelves-2-pack-white-1-thick-sizes-available-shelving_5_413.jpg?v=1591108413","\/\/cdn.shopify.com\/s\/files\/1\/0026\/0666\/1745\/products\/floating-shelves-2-pack-white-1-thick-sizes-available-shelving_6_409.jpg?v=1591108417","\/\/cdn.shopify.com\/s\/files\/1\/0026\/0666\/1745\/products\/floating-shelves-2-pack-white-1-thick-sizes-available-shelving_7_240.jpg?v=1591108421","\/\/cdn.shopify.com\/s\/files\/1\/0026\/0666\/1745\/products\/floating-shelves-2-pack-white-1-thick-sizes-available-shelving_8_308.jpg?v=1591108424","\/\/cdn.shopify.com\/s\/files\/1\/0026\/0666\/1745\/products\/floating-shelves-2-pack-white-1-thick-sizes-available-shelving_9_499.jpg?v=1591108429"],"featured_image":"\/\/cdn.shopify.com\/s\/files\/1\/0026\/0666\/1745\/products\/floating-shelves-2-pack-white-1-thick-sizes-available-shelving-316.jpg?v=1614267706","options":["Dimensions"],"media":[{"alt":"Floating Shelves (2 Pack) White 1 Thick 2 Sizes Available Shelving","id":20176983097457,"position":1,"preview_image":{"aspect_ratio":1.0,"height":1024,"width":1024,"src":"https:\/\/cdn.shopify.com\/s\/files\/1\/0026\/0666\/1745\/products\/floating-shelves-2-pack-white-1-thick-sizes-available-shelving-316.jpg?v=1614267706"},"aspect_ratio":1.0,"height":1024,"media_type":"image","src":"https:\/\/cdn.shopify.com\/s\/files\/1\/0026\/0666\/1745\/products\/floating-shelves-2-pack-white-1-thick-sizes-available-shelving-316.jpg?v=1614267706","width":1024},{"alt":"https:\/\/vimeo.com\/408694922","id":7136953008241,"position":2,"preview_image":{"aspect_ratio":1.0,"height":1024,"width":1024,"src":"https:\/\/cdn.shopify.com\/s\/files\/1\/0026\/0666\/1745\/products\/floating-shelves-2-pack-white-1-thick-sizes-available-shelving-969.jpg?v=1594321340"},"aspect_ratio":1.0,"height":1024,"media_type":"image","src":"https:\/\/cdn.shopify.com\/s\/files\/1\/0026\/0666\/1745\/products\/floating-shelves-2-pack-white-1-thick-sizes-available-shelving-969.jpg?v=1594321340","width":1024},{"alt":"white floating shelves 2 pack white thick","id":6872002723953,"position":3,"preview_image":{"aspect_ratio":1.0,"height":1024,"width":1024,"src":"https:\/\/cdn.shopify.com\/s\/files\/1\/0026\/0666\/1745\/products\/floating-shelves-2-pack-white-1-thick-sizes-available-shelving_1_141.jpg?v=1591108396"},"aspect_ratio":1.0,"height":1024,"media_type":"image","src":"https:\/\/cdn.shopify.com\/s\/files\/1\/0026\/0666\/1745\/products\/floating-shelves-2-pack-white-1-thick-sizes-available-shelving_1_141.jpg?v=1591108396","width":1024},{"alt":"Floating Shelves (2 Pack) White 1 Thick 2 Sizes Available Shelving","id":6872003149937,"position":4,"preview_image":{"aspect_ratio":1.0,"height":1024,"width":1024,"src":"https:\/\/cdn.shopify.com\/s\/files\/1\/0026\/0666\/1745\/products\/floating-shelves-2-pack-white-1-thick-sizes-available-shelving_2_297.jpg?v=1591108401"},"aspect_ratio":1.0,"height":1024,"media_type":"image","src":"https:\/\/cdn.shopify.com\/s\/files\/1\/0026\/0666\/1745\/products\/floating-shelves-2-pack-white-1-thick-sizes-available-shelving_2_297.jpg?v=1591108401","width":1024},{"alt":"Floating Shelves (2 Pack) White 1 Thick 2 Sizes Available Shelving","id":6872003805297,"position":5,"preview_image":{"aspect_ratio":1.0,"height":1024,"width":1024,"src":"https:\/\/cdn.shopify.com\/s\/files\/1\/0026\/0666\/1745\/products\/floating-shelves-2-pack-white-1-thick-sizes-available-shelving_3_431.jpg?v=1591108405"},"aspect_ratio":1.0,"height":1024,"media_type":"image","src":"https:\/\/cdn.shopify.com\/s\/files\/1\/0026\/0666\/1745\/products\/floating-shelves-2-pack-white-1-thick-sizes-available-shelving_3_431.jpg?v=1591108405","width":1024},{"alt":"Floating Shelves (2 Pack) White 1 Thick 2 Sizes Available Shelving","id":6872004296817,"position":6,"preview_image":{"aspect_ratio":1.0,"height":1024,"width":1024,"src":"https:\/\/cdn.shopify.com\/s\/files\/1\/0026\/0666\/1745\/products\/floating-shelves-2-pack-white-1-thick-sizes-available-shelving_4_461.jpg?v=1591108410"},"aspect_ratio":1.0,"height":1024,"media_type":"image","src":"https:\/\/cdn.shopify.com\/s\/files\/1\/0026\/0666\/1745\/products\/floating-shelves-2-pack-white-1-thick-sizes-available-shelving_4_461.jpg?v=1591108410","width":1024},{"alt":"Floating Shelves (2 Pack) White 1 Thick 2 Sizes Available Shelving","id":6872004460657,"position":7,"preview_image":{"aspect_ratio":1.0,"height":1024,"width":1024,"src":"https:\/\/cdn.shopify.com\/s\/files\/1\/0026\/0666\/1745\/products\/floating-shelves-2-pack-white-1-thick-sizes-available-shelving_5_413.jpg?v=1591108413"},"aspect_ratio":1.0,"height":1024,"media_type":"image","src":"https:\/\/cdn.shopify.com\/s\/files\/1\/0026\/0666\/1745\/products\/floating-shelves-2-pack-white-1-thick-sizes-available-shelving_5_413.jpg?v=1591108413","width":1024},{"alt":"Floating Shelves (2 Pack) White 1 Thick 2 Sizes Available Shelving","id":6872004788337,"position":8,"preview_image":{"aspect_ratio":1.0,"height":1024,"width":1024,"src":"https:\/\/cdn.shopify.com\/s\/files\/1\/0026\/0666\/1745\/products\/floating-shelves-2-pack-white-1-thick-sizes-available-shelving_6_409.jpg?v=1591108417"},"aspect_ratio":1.0,"height":1024,"media_type":"image","src":"https:\/\/cdn.shopify.com\/s\/files\/1\/0026\/0666\/1745\/products\/floating-shelves-2-pack-white-1-thick-sizes-available-shelving_6_409.jpg?v=1591108417","width":1024},{"alt":"Floating Shelves (2 Pack) White 1 Thick 2 Sizes Available Shelving","id":6872005050481,"position":9,"preview_image":{"aspect_ratio":1.0,"height":1024,"width":1024,"src":"https:\/\/cdn.shopify.com\/s\/files\/1\/0026\/0666\/1745\/products\/floating-shelves-2-pack-white-1-thick-sizes-available-shelving_7_240.jpg?v=1591108421"},"aspect_ratio":1.0,"height":1024,"media_type":"image","src":"https:\/\/cdn.shopify.com\/s\/files\/1\/0026\/0666\/1745\/products\/floating-shelves-2-pack-white-1-thick-sizes-available-shelving_7_240.jpg?v=1591108421","width":1024},{"alt":"Floating Shelves (2 Pack) White 1 Thick 2 Sizes Available Shelving","id":6872005476465,"position":10,"preview_image":{"aspect_ratio":1.0,"height":1024,"width":1024,"src":"https:\/\/cdn.shopify.com\/s\/files\/1\/0026\/0666\/1745\/products\/floating-shelves-2-pack-white-1-thick-sizes-available-shelving_8_308.jpg?v=1591108424"},"aspect_ratio":1.0,"height":1024,"media_type":"image","src":"https:\/\/cdn.shopify.com\/s\/files\/1\/0026\/0666\/1745\/products\/floating-shelves-2-pack-white-1-thick-sizes-available-shelving_8_308.jpg?v=1591108424","width":1024},{"alt":"Floating Shelves (2 Pack) White 1 Thick 2 Sizes Available Shelving","id":6872005902449,"position":11,"preview_image":{"aspect_ratio":1.0,"height":1024,"width":1024,"src":"https:\/\/cdn.shopify.com\/s\/files\/1\/0026\/0666\/1745\/products\/floating-shelves-2-pack-white-1-thick-sizes-available-shelving_9_499.jpg?v=1591108429"},"aspect_ratio":1.0,"height":1024,"media_type":"image","src":"https:\/\/cdn.shopify.com\/s\/files\/1\/0026\/0666\/1745\/products\/floating-shelves-2-pack-white-1-thick-sizes-available-shelving_9_499.jpg?v=1591108429","width":1024},{"alt":null,"id":6595380379761,"position":12,"preview_image":{"aspect_ratio":1.778,"height":720,"width":1280,"src":"https:\/\/cdn.shopify.com\/s\/files\/1\/0026\/0666\/1745\/products\/696c05ce44c549ed849630007768175c.thumbnail.0000000.jpg?v=1588175743"},"aspect_ratio":1.779,"duration":54821,"media_type":"video","sources":[{"format":"mp4","height":480,"mime_type":"video\/mp4","url":"https:\/\/cdn.shopify.com\/videos\/c\/vp\/696c05ce44c549ed849630007768175c\/696c05ce44c549ed849630007768175c.SD-480p-1.5Mbps.mp4","width":854},{"format":"mp4","height":720,"mime_type":"video\/mp4","url":"https:\/\/cdn.shopify.com\/videos\/c\/vp\/696c05ce44c549ed849630007768175c\/696c05ce44c549ed849630007768175c.HD-720p-4.5Mbps.mp4","width":1280},{"format":"m3u8","height":720,"mime_type":"application\/x-mpegURL","url":"https:\/\/cdn.shopify.com\/videos\/c\/vp\/696c05ce44c549ed849630007768175c\/696c05ce44c549ed849630007768175c.hls.m3u8","width":1280}]}],"requires_selling_plan":false,"selling_plan_groups":[],"content":"\u003cdiv class=\"index-section--flush powr-popup\" id=\"53411b5d_1577809101\"\u003e\u003c\/div\u003e \u003cp\u003eClean and bold shelf with no visible brackets. Easy installation using included InviZibolt in drill chuck. Multiple sizes and colors available. All shelves made sustainably from certified reforested MDP.\u003c\/p\u003e"}
Floating Shelves (2 Pack), White, 1" Thick, 2 Sizes Available
Floating Shelves
The Delta Floating Shelf creates a modern, minimalist aesthetic. Available in a range of finish options, you'll find the style that compliments any décor. A chic alternative to bulky wall shelving, we utilize a no-show bracket design that holds up to 33 lbs per shelf. It's all thanks to our proprietary InvisiBolts, which provide fast, easy and intuitive installation.
---
Features
Two Sturdy Wall Shelves
Delta's durable floating wall shelves are thin yet strong and can hold up to 33 pounds of weight. After finding a stud on your wall, installation is a breeze and will be finished within minutes.
Beautiful Reforested Wood
Floating wood shelves made entirely from sustainably forested MDP wood so that they're smooth to the touch, and have a solid feel with superior durability.
Easy Hanging Shelf Installation
Our patent-pending InvisiBolt bracket makes for a simple installation and hides any hint of installation. Simply slide the floating wall shelf onto the installed InvisiBolts and you're set!
Anywhere In Your Home
Enjoy an upgraded aesthetic after installing bedroom shelves, bathroom shelves, kitchen shelves, or living room wall shelves. Simply locate a stud in the wall and install our hanging shelves.
Quality & Satisfaction Guarantee
Delta guarantees each wooden shelf we sell with a limited lifetime warranty. We will take the time to answer any questions or assist in any way possible; we are based in the USA.
---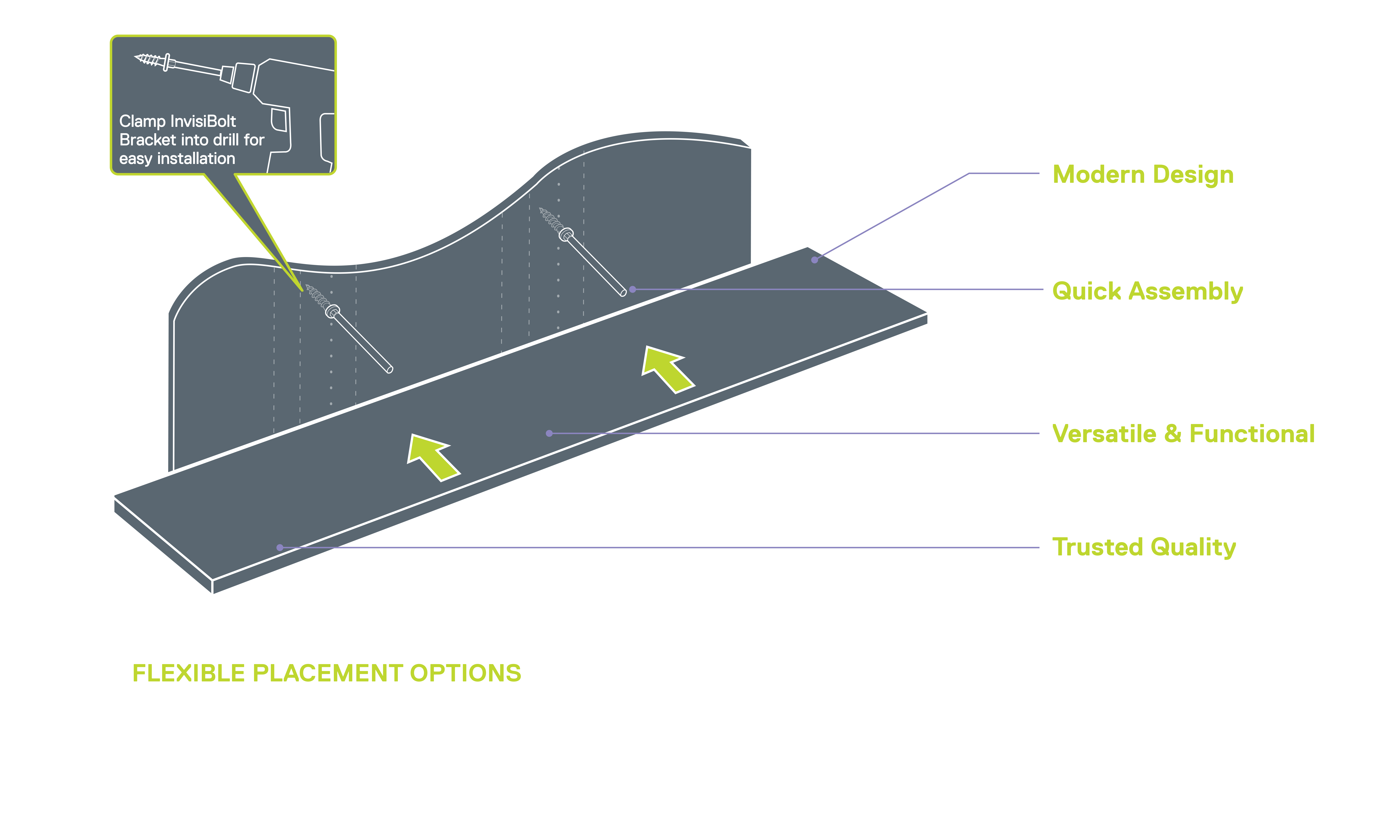 ---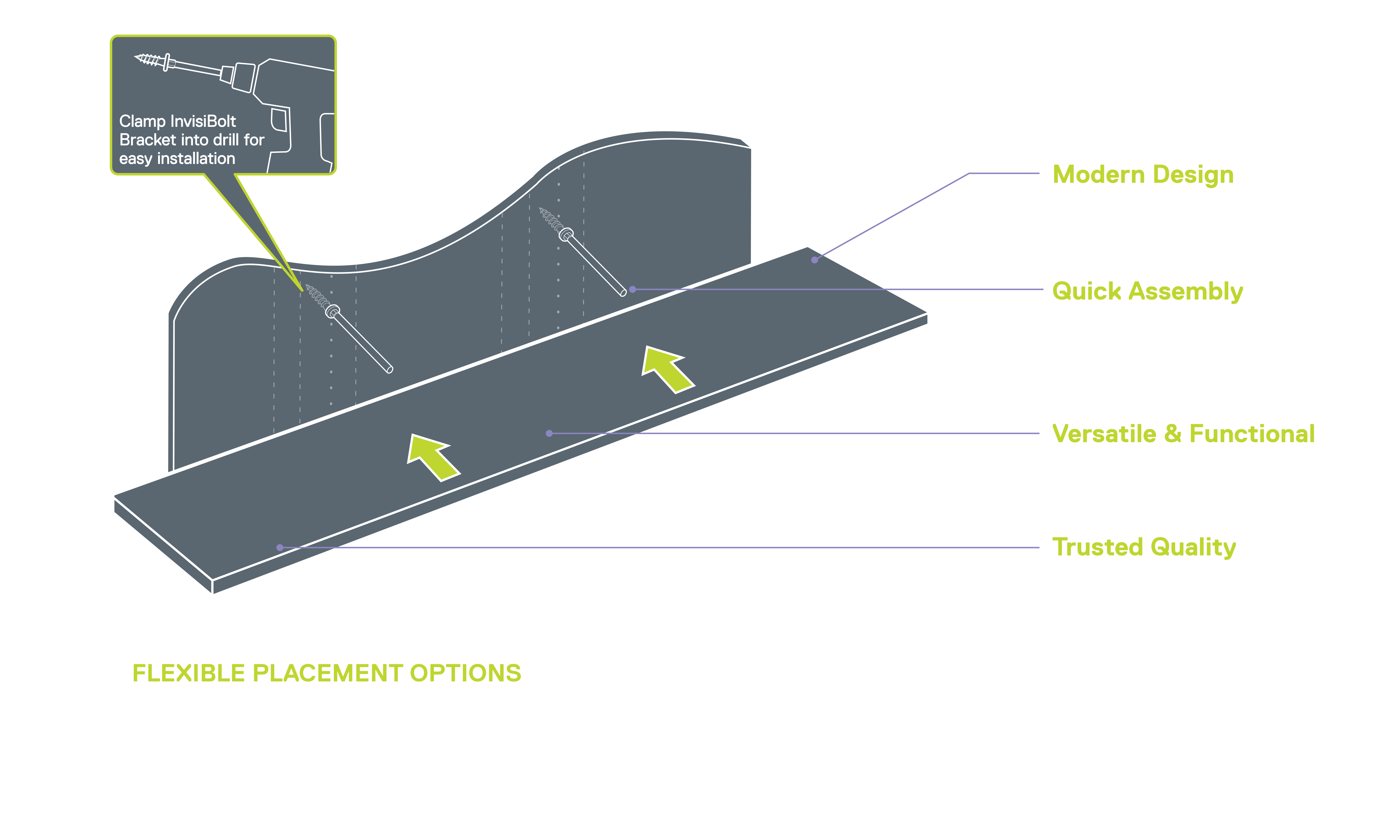 ---
Delta Guarantee
We put a lot of effort into the design, engineering and materials that go into every product so they will look great, work well and last. That's why we offer a limited lifetime warranty that covers defects in workmanship and materials. If something goes wrong, we will do our best to help solve the problem.