{"id":3977973530737,"title":"Four Bike Free-Standing Rack with Basket","handle":"four-bike-free-standing-rack","description":"\u003cp\u003eIndependent arms accommodate any bike. Easy to follow instructions require only basic tools. Durable powdercoated steel with custom molded arm covers. Canaletto free standing 4 bike rack\u003c\/p\u003e","published_at":"2019-07-29T18:27:25-04:00","created_at":"2019-07-29T18:27:27-04:00","vendor":"Delta Cycle, Inc.","type":"Bike racks","tags":[],"price":18999,"price_min":18999,"price_max":18999,"available":true,"price_varies":false,"compare_at_price":null,"compare_at_price_min":0,"compare_at_price_max":0,"compare_at_price_varies":false,"variants":[{"id":29474913910897,"title":"Default Title","option1":"Default Title","option2":null,"option3":null,"sku":"HDRS6801","requires_shipping":true,"taxable":true,"featured_image":null,"available":true,"name":"Four Bike Free-Standing Rack with Basket","public_title":null,"options":["Default Title"],"price":18999,"weight":0,"compare_at_price":null,"inventory_management":"shopify","barcode":"","requires_selling_plan":false,"selling_plan_allocations":[]}],"images":["\/\/cdn.shopify.com\/s\/files\/1\/0026\/0666\/1745\/products\/HDRS6801_Product_Hero_OldBasket_1200x1200_3db1671e-af0c-4555-91d0-0c800846648e.jpg?v=1649969288","\/\/cdn.shopify.com\/s\/files\/1\/0026\/0666\/1745\/products\/HDRS6801_4Bike_Rack_DME_4_NOSCRATCH_05_06_21.jpg?v=1649969288","\/\/cdn.shopify.com\/s\/files\/1\/0026\/0666\/1745\/products\/HDRS6801_4Bike_Standing_Rack_AMZ_accessory_basket_2_WEB_1.jpg?v=1649969288","\/\/cdn.shopify.com\/s\/files\/1\/0026\/0666\/1745\/products\/HDRS6801_4Bike_Standing_Rack_AMZ_accessory_basket_WEB_1.jpg?v=1649969285","\/\/cdn.shopify.com\/s\/files\/1\/0026\/0666\/1745\/products\/HDRS6801_4Bike_Rack_DME_2_STABILITY_05_06_21.jpg?v=1649969285","\/\/cdn.shopify.com\/s\/files\/1\/0026\/0666\/1745\/products\/HDRS6801_4Bike_Standing_Rack_AMZ_hero_4_bikes_5_WEB_1.jpg?v=1649969285","\/\/cdn.shopify.com\/s\/files\/1\/0026\/0666\/1745\/products\/HDRS6801_4Bike_Standing_Rack_CROPPED_insitchu_7_V2_1.jpg?v=1649969285","\/\/cdn.shopify.com\/s\/files\/1\/0026\/0666\/1745\/products\/HDRS6801_4Bike_Standing_Rack_AMZ_Stable_insitchu_6_WEB_1.jpg?v=1649969285","\/\/cdn.shopify.com\/s\/files\/1\/0026\/0666\/1745\/products\/HDRS6801_4Bike_Standing_Rack_AMZ_not_a_scratch_Grey_1.jpg?v=1649969285","\/\/cdn.shopify.com\/s\/files\/1\/0026\/0666\/1745\/products\/HDRS6801_4Bike_Standing_Rack_costco_material_quality_Grey_1.jpg?v=1649969285","\/\/cdn.shopify.com\/s\/files\/1\/0026\/0666\/1745\/products\/HDRS6801_4Bike_Standing_Rack_AMZ_Stable_freestanding_3_Grey_WEB_1.jpg?v=1649969285"],"featured_image":"\/\/cdn.shopify.com\/s\/files\/1\/0026\/0666\/1745\/products\/HDRS6801_Product_Hero_OldBasket_1200x1200_3db1671e-af0c-4555-91d0-0c800846648e.jpg?v=1649969288","options":["Title"],"media":[{"alt":null,"id":22200043896945,"position":1,"preview_image":{"aspect_ratio":1.0,"height":1200,"width":1200,"src":"https:\/\/cdn.shopify.com\/s\/files\/1\/0026\/0666\/1745\/products\/HDRS6801_Product_Hero_OldBasket_1200x1200_3db1671e-af0c-4555-91d0-0c800846648e.jpg?v=1649969288"},"aspect_ratio":1.0,"height":1200,"media_type":"image","src":"https:\/\/cdn.shopify.com\/s\/files\/1\/0026\/0666\/1745\/products\/HDRS6801_Product_Hero_OldBasket_1200x1200_3db1671e-af0c-4555-91d0-0c800846648e.jpg?v=1649969288","width":1200},{"alt":"Four Bike Free-Standing Rack with Basket","id":21196080382065,"position":2,"preview_image":{"aspect_ratio":1.0,"height":2000,"width":2000,"src":"https:\/\/cdn.shopify.com\/s\/files\/1\/0026\/0666\/1745\/products\/HDRS6801_4Bike_Rack_DME_4_NOSCRATCH_05_06_21.jpg?v=1649969288"},"aspect_ratio":1.0,"height":2000,"media_type":"image","src":"https:\/\/cdn.shopify.com\/s\/files\/1\/0026\/0666\/1745\/products\/HDRS6801_4Bike_Rack_DME_4_NOSCRATCH_05_06_21.jpg?v=1649969288","width":2000},{"alt":"Four Bike Free-Standing Rack with Basket","id":20609605927025,"position":3,"preview_image":{"aspect_ratio":1.0,"height":1200,"width":1200,"src":"https:\/\/cdn.shopify.com\/s\/files\/1\/0026\/0666\/1745\/products\/HDRS6801_4Bike_Standing_Rack_AMZ_accessory_basket_2_WEB_1.jpg?v=1649969288"},"aspect_ratio":1.0,"height":1200,"media_type":"image","src":"https:\/\/cdn.shopify.com\/s\/files\/1\/0026\/0666\/1745\/products\/HDRS6801_4Bike_Standing_Rack_AMZ_accessory_basket_2_WEB_1.jpg?v=1649969288","width":1200},{"alt":"Four Bike Free-Standing Rack with Basket","id":20609605894257,"position":4,"preview_image":{"aspect_ratio":1.0,"height":1200,"width":1200,"src":"https:\/\/cdn.shopify.com\/s\/files\/1\/0026\/0666\/1745\/products\/HDRS6801_4Bike_Standing_Rack_AMZ_accessory_basket_WEB_1.jpg?v=1649969285"},"aspect_ratio":1.0,"height":1200,"media_type":"image","src":"https:\/\/cdn.shopify.com\/s\/files\/1\/0026\/0666\/1745\/products\/HDRS6801_4Bike_Standing_Rack_AMZ_accessory_basket_WEB_1.jpg?v=1649969285","width":1200},{"alt":"Four Bike Free-Standing Rack with Basket","id":21196080349297,"position":5,"preview_image":{"aspect_ratio":1.0,"height":2000,"width":2000,"src":"https:\/\/cdn.shopify.com\/s\/files\/1\/0026\/0666\/1745\/products\/HDRS6801_4Bike_Rack_DME_2_STABILITY_05_06_21.jpg?v=1649969285"},"aspect_ratio":1.0,"height":2000,"media_type":"image","src":"https:\/\/cdn.shopify.com\/s\/files\/1\/0026\/0666\/1745\/products\/HDRS6801_4Bike_Rack_DME_2_STABILITY_05_06_21.jpg?v=1649969285","width":2000},{"alt":"Four Bike Free-Standing Rack with Basket","id":20609606615153,"position":6,"preview_image":{"aspect_ratio":1.0,"height":1200,"width":1200,"src":"https:\/\/cdn.shopify.com\/s\/files\/1\/0026\/0666\/1745\/products\/HDRS6801_4Bike_Standing_Rack_AMZ_hero_4_bikes_5_WEB_1.jpg?v=1649969285"},"aspect_ratio":1.0,"height":1200,"media_type":"image","src":"https:\/\/cdn.shopify.com\/s\/files\/1\/0026\/0666\/1745\/products\/HDRS6801_4Bike_Standing_Rack_AMZ_hero_4_bikes_5_WEB_1.jpg?v=1649969285","width":1200},{"alt":"Four Bike Free-Standing Rack with Basket","id":20609606680689,"position":7,"preview_image":{"aspect_ratio":1.0,"height":1200,"width":1200,"src":"https:\/\/cdn.shopify.com\/s\/files\/1\/0026\/0666\/1745\/products\/HDRS6801_4Bike_Standing_Rack_CROPPED_insitchu_7_V2_1.jpg?v=1649969285"},"aspect_ratio":1.0,"height":1200,"media_type":"image","src":"https:\/\/cdn.shopify.com\/s\/files\/1\/0026\/0666\/1745\/products\/HDRS6801_4Bike_Standing_Rack_CROPPED_insitchu_7_V2_1.jpg?v=1649969285","width":1200},{"alt":"Four Bike Free-Standing Rack with Basket","id":20609606647921,"position":8,"preview_image":{"aspect_ratio":1.0,"height":1200,"width":1200,"src":"https:\/\/cdn.shopify.com\/s\/files\/1\/0026\/0666\/1745\/products\/HDRS6801_4Bike_Standing_Rack_AMZ_Stable_insitchu_6_WEB_1.jpg?v=1649969285"},"aspect_ratio":1.0,"height":1200,"media_type":"image","src":"https:\/\/cdn.shopify.com\/s\/files\/1\/0026\/0666\/1745\/products\/HDRS6801_4Bike_Standing_Rack_AMZ_Stable_insitchu_6_WEB_1.jpg?v=1649969285","width":1200},{"alt":"Four Bike Free-Standing Rack with Basket","id":20609605959793,"position":9,"preview_image":{"aspect_ratio":1.0,"height":1200,"width":1200,"src":"https:\/\/cdn.shopify.com\/s\/files\/1\/0026\/0666\/1745\/products\/HDRS6801_4Bike_Standing_Rack_AMZ_not_a_scratch_Grey_1.jpg?v=1649969285"},"aspect_ratio":1.0,"height":1200,"media_type":"image","src":"https:\/\/cdn.shopify.com\/s\/files\/1\/0026\/0666\/1745\/products\/HDRS6801_4Bike_Standing_Rack_AMZ_not_a_scratch_Grey_1.jpg?v=1649969285","width":1200},{"alt":"Four Bike Free-Standing Rack with Basket","id":20609605992561,"position":10,"preview_image":{"aspect_ratio":1.0,"height":1200,"width":1200,"src":"https:\/\/cdn.shopify.com\/s\/files\/1\/0026\/0666\/1745\/products\/HDRS6801_4Bike_Standing_Rack_costco_material_quality_Grey_1.jpg?v=1649969285"},"aspect_ratio":1.0,"height":1200,"media_type":"image","src":"https:\/\/cdn.shopify.com\/s\/files\/1\/0026\/0666\/1745\/products\/HDRS6801_4Bike_Standing_Rack_costco_material_quality_Grey_1.jpg?v=1649969285","width":1200},{"alt":"Four Bike Free-Standing Rack with Basket","id":20609606746225,"position":11,"preview_image":{"aspect_ratio":1.0,"height":1200,"width":1200,"src":"https:\/\/cdn.shopify.com\/s\/files\/1\/0026\/0666\/1745\/products\/HDRS6801_4Bike_Standing_Rack_AMZ_Stable_freestanding_3_Grey_WEB_1.jpg?v=1649969285"},"aspect_ratio":1.0,"height":1200,"media_type":"image","src":"https:\/\/cdn.shopify.com\/s\/files\/1\/0026\/0666\/1745\/products\/HDRS6801_4Bike_Standing_Rack_AMZ_Stable_freestanding_3_Grey_WEB_1.jpg?v=1649969285","width":1200}],"requires_selling_plan":false,"selling_plan_groups":[],"content":"\u003cp\u003eIndependent arms accommodate any bike. Easy to follow instructions require only basic tools. Durable powdercoated steel with custom molded arm covers. Canaletto free standing 4 bike rack\u003c\/p\u003e"}
Four Bike Free-Standing Rack with Basket
Reclaim Your Floor Space Without Sacrificing Your Walls
Enjoying a hobby, like cycling, should not mean sacrificing floor space to accommodate your gear. With a small footprint and innovative design, delta's Four Bike Free-Standing Rack with Basket, safely suspends your bicycles and securely holds them within reach for your next ride. Ideal for apartment living or your home or garage, choose the perfect wall to set up your bike stand, with no permanent drilling or hanging required. Built to accommodate any bike size or type, this bike rack stand supports two bikes up to 160lbs total, and the integrated basket securely holds your gear, up to 15lbs.
---
Features
Trusted Quality
The trusted leader in bike storage with over 1 million bike racks sold. Designed and engineered in the US with best-in-class customer support.
Original Design
No permanent attachment or drilling required. Take your bikes up off the floor. The ideal apartment bike rack, this rack is elegantly designed to suit any modern décor. Secure mounting rack with an additional basket to store your gear.
Fully Adjustable
Independent arms accommodate any bike size or style, up to a total of 160lbs. Proprietary non-slip rubber coated arms protect your bike. Integrated basket provides secure storage up to 15lbs.
Durable Construction
Durable four wide stance rubber feet keep this free standing bike rack securely in place. No permanent mounting or hanging required and secure storage for up to 4 bikes, up to 160lb / 70kg.
Quick Assembly
Easily assemble in minutes with only a screwdriver. Store and remove your bike in seconds and reclaim your floor space.
Max Weight
160 lb / 70 kg up to 4 bikes
Dimensions
86" x 24" x 24" / 2190 x 610 x 610 mm
---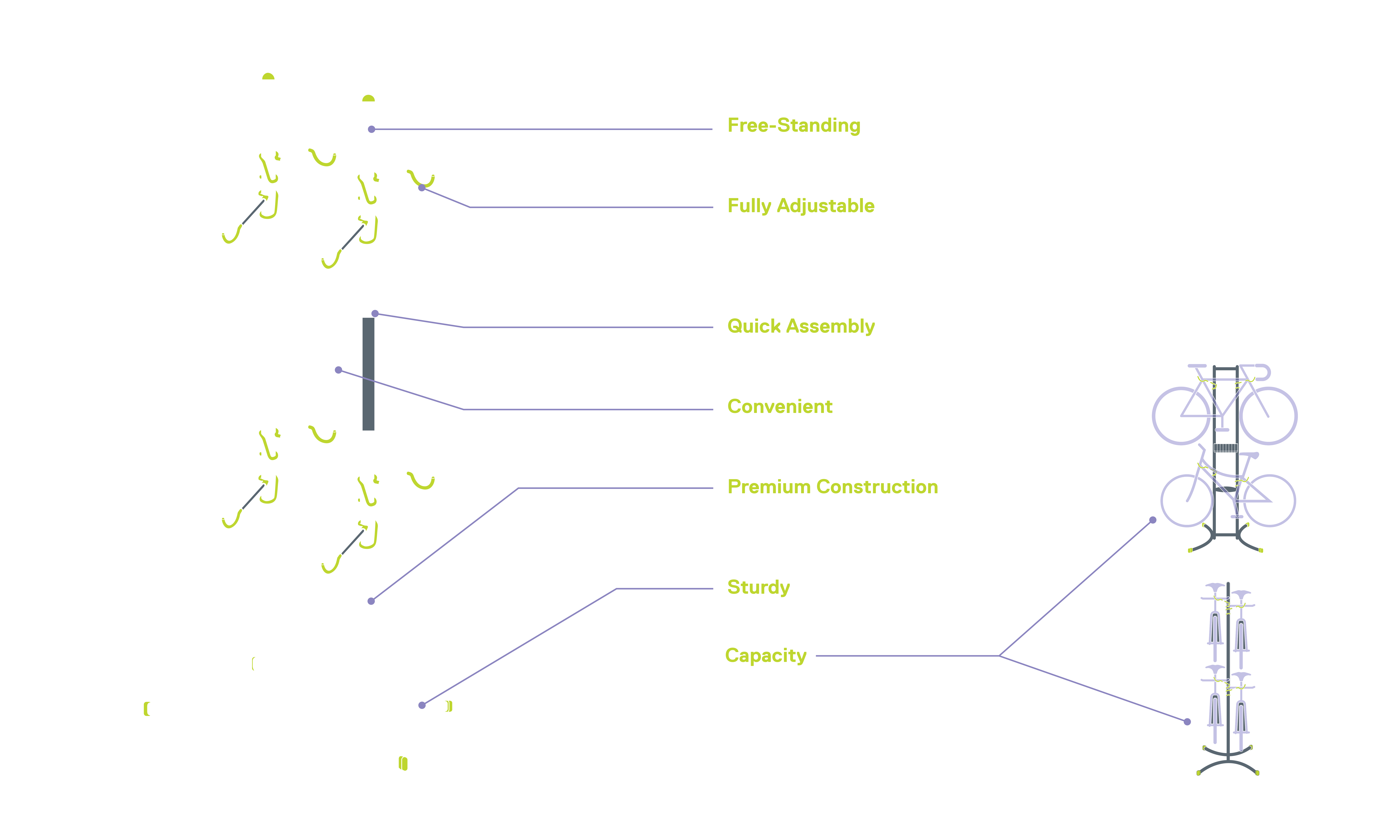 ---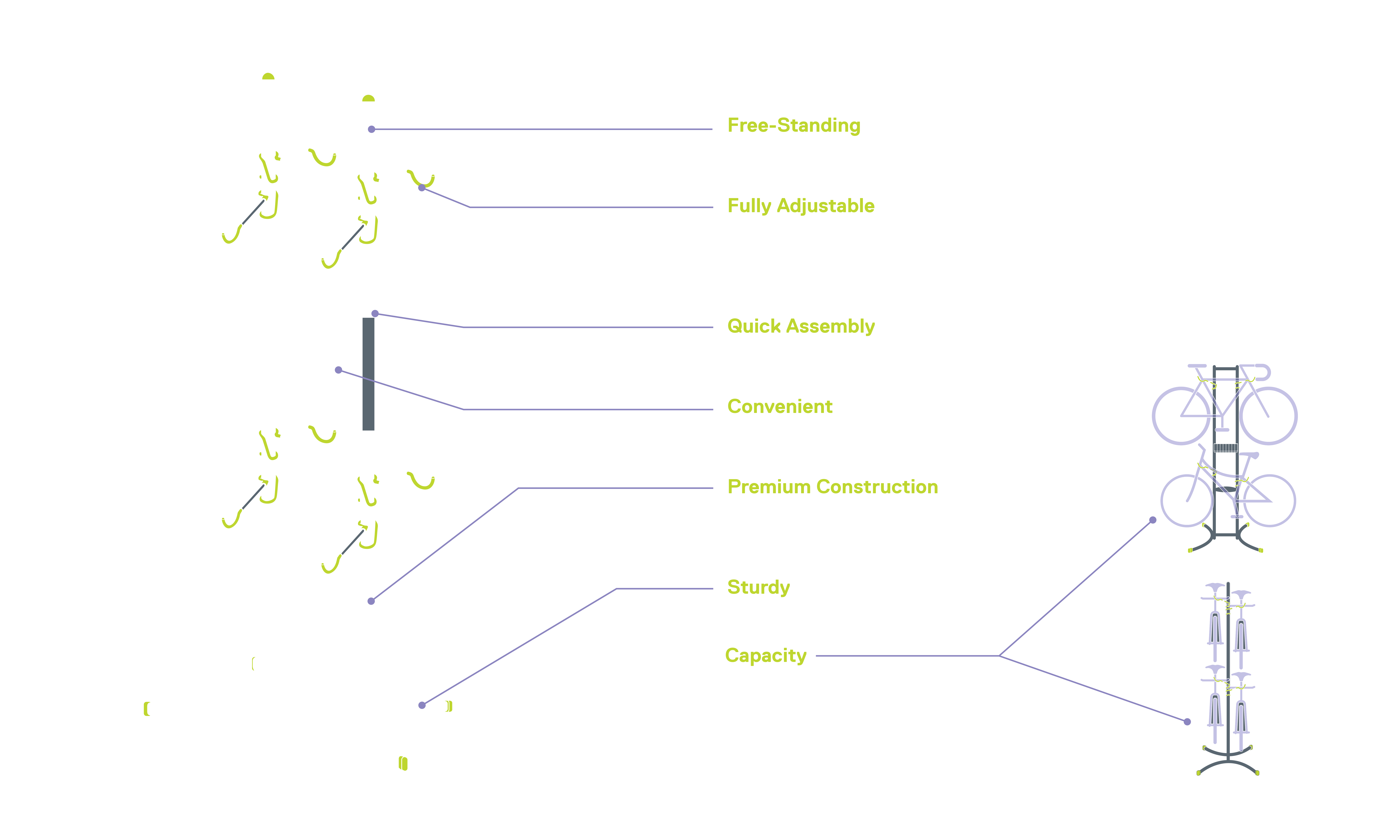 ---
Delta Guarantee
We put a lot of effort into the design, engineering and materials that go into every product so they will look great, work well and last. If something goes wrong, we will do our best to help solve the problem.