{"id":3977974284401,"title":"Closet Bracket 3-Pack","handle":"closet-bracket","description":"\u003cp\u003ePatent pending shape gives storage hooks for belts, ties, scarves and more along bracket diagonal. Available with or without closet pole holder. Installation in any wood stud.\u003c\/p\u003e","published_at":"2019-07-29T18:27:43-04:00","created_at":"2019-07-29T18:27:45-04:00","vendor":"Delta Cycle, Inc.","type":"Closets","tags":["closet shelf"],"price":599,"price_min":599,"price_max":799,"available":true,"price_varies":true,"compare_at_price":null,"compare_at_price_min":0,"compare_at_price_max":0,"compare_at_price_varies":false,"variants":[{"id":29474915156081,"title":"No pole holder \/ Gray\/Silver","option1":"No pole holder","option2":"Gray\/Silver","option3":null,"sku":"CB1000-3","requires_shipping":true,"taxable":true,"featured_image":null,"available":true,"name":"Closet Bracket 3-Pack - No pole holder \/ Gray\/Silver","public_title":"No pole holder \/ Gray\/Silver","options":["No pole holder","Gray\/Silver"],"price":599,"weight":0,"compare_at_price":null,"inventory_management":"shopify","barcode":null,"requires_selling_plan":false,"selling_plan_allocations":[]},{"id":29474915188849,"title":"No pole holder \/ White","option1":"No pole holder","option2":"White","option3":null,"sku":"CB1000WH-3","requires_shipping":true,"taxable":true,"featured_image":{"id":28085676802161,"product_id":3977974284401,"position":3,"created_at":"2021-03-17T11:29:48-04:00","updated_at":"2021-08-25T14:48:56-04:00","alt":"Closet Bracket 3-Pack","width":1200,"height":1200,"src":"https:\/\/cdn.shopify.com\/s\/files\/1\/0026\/0666\/1745\/products\/bracket3.jpg?v=1629917336","variant_ids":[29474915188849]},"available":false,"name":"Closet Bracket 3-Pack - No pole holder \/ White","public_title":"No pole holder \/ White","options":["No pole holder","White"],"price":599,"weight":0,"compare_at_price":null,"inventory_management":"shopify","barcode":null,"featured_media":{"alt":"Closet Bracket 3-Pack","id":20396616614001,"position":3,"preview_image":{"aspect_ratio":1.0,"height":1200,"width":1200,"src":"https:\/\/cdn.shopify.com\/s\/files\/1\/0026\/0666\/1745\/products\/bracket3.jpg?v=1629917336"}},"requires_selling_plan":false,"selling_plan_allocations":[]},{"id":29474915221617,"title":"Pole holder \/ Gray\/Silver","option1":"Pole holder","option2":"Gray\/Silver","option3":null,"sku":"CB2000-3","requires_shipping":true,"taxable":true,"featured_image":{"id":28085624897649,"product_id":3977974284401,"position":4,"created_at":"2021-03-17T11:16:38-04:00","updated_at":"2021-08-25T14:48:59-04:00","alt":"Closet Bracket 3-Pack","width":2130,"height":2108,"src":"https:\/\/cdn.shopify.com\/s\/files\/1\/0026\/0666\/1745\/products\/CB2000S_ClosetBracket_LG_Product_Hero_455a5305-9b04-4154-9465-749f2d54bab0.jpg?v=1629917339","variant_ids":[29474915221617]},"available":true,"name":"Closet Bracket 3-Pack - Pole holder \/ Gray\/Silver","public_title":"Pole holder \/ Gray\/Silver","options":["Pole holder","Gray\/Silver"],"price":799,"weight":0,"compare_at_price":null,"inventory_management":"shopify","barcode":null,"featured_media":{"alt":"Closet Bracket 3-Pack","id":20396564217969,"position":4,"preview_image":{"aspect_ratio":1.01,"height":2108,"width":2130,"src":"https:\/\/cdn.shopify.com\/s\/files\/1\/0026\/0666\/1745\/products\/CB2000S_ClosetBracket_LG_Product_Hero_455a5305-9b04-4154-9465-749f2d54bab0.jpg?v=1629917339"}},"requires_selling_plan":false,"selling_plan_allocations":[]},{"id":29474915254385,"title":"Pole holder \/ White","option1":"Pole holder","option2":"White","option3":null,"sku":"CB2000WH-3","requires_shipping":true,"taxable":true,"featured_image":{"id":28085624832113,"product_id":3977974284401,"position":1,"created_at":"2021-03-17T11:16:37-04:00","updated_at":"2021-08-25T14:48:51-04:00","alt":"Closet Bracket 3-Pack","width":2130,"height":2108,"src":"https:\/\/cdn.shopify.com\/s\/files\/1\/0026\/0666\/1745\/products\/CB2000W_ClosetBracket_LG_Product_Hero.jpg?v=1629917331","variant_ids":[29474915254385]},"available":true,"name":"Closet Bracket 3-Pack - Pole holder \/ White","public_title":"Pole holder \/ White","options":["Pole holder","White"],"price":790,"weight":0,"compare_at_price":null,"inventory_management":"shopify","barcode":null,"featured_media":{"alt":"Closet Bracket 3-Pack","id":20396564185201,"position":1,"preview_image":{"aspect_ratio":1.01,"height":2108,"width":2130,"src":"https:\/\/cdn.shopify.com\/s\/files\/1\/0026\/0666\/1745\/products\/CB2000W_ClosetBracket_LG_Product_Hero.jpg?v=1629917331"}},"requires_selling_plan":false,"selling_plan_allocations":[]}],"images":["\/\/cdn.shopify.com\/s\/files\/1\/0026\/0666\/1745\/products\/CB2000W_ClosetBracket_LG_Product_Hero.jpg?v=1629917331","\/\/cdn.shopify.com\/s\/files\/1\/0026\/0666\/1745\/products\/CB2000_white_Closet_Bracket_Convenience_type_2.jpg?v=1629917333","\/\/cdn.shopify.com\/s\/files\/1\/0026\/0666\/1745\/products\/bracket3.jpg?v=1629917336","\/\/cdn.shopify.com\/s\/files\/1\/0026\/0666\/1745\/products\/CB2000S_ClosetBracket_LG_Product_Hero_455a5305-9b04-4154-9465-749f2d54bab0.jpg?v=1629917339","\/\/cdn.shopify.com\/s\/files\/1\/0026\/0666\/1745\/products\/CB2000_Closet_Bracket_Material_quality_2.jpg?v=1629917342","\/\/cdn.shopify.com\/s\/files\/1\/0026\/0666\/1745\/products\/CB2000_Silver_Closet_Bracket_accessory_hook.jpg?v=1629917348","\/\/cdn.shopify.com\/s\/files\/1\/0026\/0666\/1745\/products\/CB2000_Closet_Bracket_Function_2.jpg?v=1629917352","\/\/cdn.shopify.com\/s\/files\/1\/0026\/0666\/1745\/products\/CB2000_Closet_Bracket_Life_style_2.jpg?v=1629917355","\/\/cdn.shopify.com\/s\/files\/1\/0026\/0666\/1745\/products\/CB2000S_ClosetBracket_LG_Product_Hero.jpg?v=1629917358","\/\/cdn.shopify.com\/s\/files\/1\/0026\/0666\/1745\/products\/CB1000S_ClosetBracket_inset.jpg?v=1629917362","\/\/cdn.shopify.com\/s\/files\/1\/0026\/0666\/1745\/products\/CB2000_white_Closet_Bracket_Convenience_type_2_a980e8c6-84b1-4ffc-8b99-40147b66a730.jpg?v=1629917366"],"featured_image":"\/\/cdn.shopify.com\/s\/files\/1\/0026\/0666\/1745\/products\/CB2000W_ClosetBracket_LG_Product_Hero.jpg?v=1629917331","options":["Options","Color"],"media":[{"alt":"Closet Bracket 3-Pack","id":20396564185201,"position":1,"preview_image":{"aspect_ratio":1.01,"height":2108,"width":2130,"src":"https:\/\/cdn.shopify.com\/s\/files\/1\/0026\/0666\/1745\/products\/CB2000W_ClosetBracket_LG_Product_Hero.jpg?v=1629917331"},"aspect_ratio":1.01,"height":2108,"media_type":"image","src":"https:\/\/cdn.shopify.com\/s\/files\/1\/0026\/0666\/1745\/products\/CB2000W_ClosetBracket_LG_Product_Hero.jpg?v=1629917331","width":2130},{"alt":"Closet Bracket 3-Pack","id":20396381110385,"position":2,"preview_image":{"aspect_ratio":1.0,"height":2000,"width":2000,"src":"https:\/\/cdn.shopify.com\/s\/files\/1\/0026\/0666\/1745\/products\/CB2000_white_Closet_Bracket_Convenience_type_2.jpg?v=1629917333"},"aspect_ratio":1.0,"height":2000,"media_type":"image","src":"https:\/\/cdn.shopify.com\/s\/files\/1\/0026\/0666\/1745\/products\/CB2000_white_Closet_Bracket_Convenience_type_2.jpg?v=1629917333","width":2000},{"alt":"Closet Bracket 3-Pack","id":20396616614001,"position":3,"preview_image":{"aspect_ratio":1.0,"height":1200,"width":1200,"src":"https:\/\/cdn.shopify.com\/s\/files\/1\/0026\/0666\/1745\/products\/bracket3.jpg?v=1629917336"},"aspect_ratio":1.0,"height":1200,"media_type":"image","src":"https:\/\/cdn.shopify.com\/s\/files\/1\/0026\/0666\/1745\/products\/bracket3.jpg?v=1629917336","width":1200},{"alt":"Closet Bracket 3-Pack","id":20396564217969,"position":4,"preview_image":{"aspect_ratio":1.01,"height":2108,"width":2130,"src":"https:\/\/cdn.shopify.com\/s\/files\/1\/0026\/0666\/1745\/products\/CB2000S_ClosetBracket_LG_Product_Hero_455a5305-9b04-4154-9465-749f2d54bab0.jpg?v=1629917339"},"aspect_ratio":1.01,"height":2108,"media_type":"image","src":"https:\/\/cdn.shopify.com\/s\/files\/1\/0026\/0666\/1745\/products\/CB2000S_ClosetBracket_LG_Product_Hero_455a5305-9b04-4154-9465-749f2d54bab0.jpg?v=1629917339","width":2130},{"alt":"Closet Bracket 3-Pack","id":20396564250737,"position":5,"preview_image":{"aspect_ratio":1.0,"height":2000,"width":2000,"src":"https:\/\/cdn.shopify.com\/s\/files\/1\/0026\/0666\/1745\/products\/CB2000_Closet_Bracket_Material_quality_2.jpg?v=1629917342"},"aspect_ratio":1.0,"height":2000,"media_type":"image","src":"https:\/\/cdn.shopify.com\/s\/files\/1\/0026\/0666\/1745\/products\/CB2000_Closet_Bracket_Material_quality_2.jpg?v=1629917342","width":2000},{"alt":"Closet Bracket 3-Pack","id":20396568248433,"position":6,"preview_image":{"aspect_ratio":1.0,"height":2000,"width":2000,"src":"https:\/\/cdn.shopify.com\/s\/files\/1\/0026\/0666\/1745\/products\/CB2000_Silver_Closet_Bracket_accessory_hook.jpg?v=1629917348"},"aspect_ratio":1.0,"height":2000,"media_type":"image","src":"https:\/\/cdn.shopify.com\/s\/files\/1\/0026\/0666\/1745\/products\/CB2000_Silver_Closet_Bracket_accessory_hook.jpg?v=1629917348","width":2000},{"alt":"Closet Bracket 3-Pack","id":20396570869873,"position":7,"preview_image":{"aspect_ratio":1.0,"height":2000,"width":2000,"src":"https:\/\/cdn.shopify.com\/s\/files\/1\/0026\/0666\/1745\/products\/CB2000_Closet_Bracket_Function_2.jpg?v=1629917352"},"aspect_ratio":1.0,"height":2000,"media_type":"image","src":"https:\/\/cdn.shopify.com\/s\/files\/1\/0026\/0666\/1745\/products\/CB2000_Closet_Bracket_Function_2.jpg?v=1629917352","width":2000},{"alt":"Closet Bracket 3-Pack","id":20396570837105,"position":8,"preview_image":{"aspect_ratio":1.0,"height":2000,"width":2000,"src":"https:\/\/cdn.shopify.com\/s\/files\/1\/0026\/0666\/1745\/products\/CB2000_Closet_Bracket_Life_style_2.jpg?v=1629917355"},"aspect_ratio":1.0,"height":2000,"media_type":"image","src":"https:\/\/cdn.shopify.com\/s\/files\/1\/0026\/0666\/1745\/products\/CB2000_Closet_Bracket_Life_style_2.jpg?v=1629917355","width":2000},{"alt":"Closet Bracket 3-Pack","id":20396545736817,"position":9,"preview_image":{"aspect_ratio":1.01,"height":2108,"width":2130,"src":"https:\/\/cdn.shopify.com\/s\/files\/1\/0026\/0666\/1745\/products\/CB2000S_ClosetBracket_LG_Product_Hero.jpg?v=1629917358"},"aspect_ratio":1.01,"height":2108,"media_type":"image","src":"https:\/\/cdn.shopify.com\/s\/files\/1\/0026\/0666\/1745\/products\/CB2000S_ClosetBracket_LG_Product_Hero.jpg?v=1629917358","width":2130},{"alt":"Closet Bracket 3-Pack","id":20396559138929,"position":10,"preview_image":{"aspect_ratio":0.774,"height":3222,"width":2494,"src":"https:\/\/cdn.shopify.com\/s\/files\/1\/0026\/0666\/1745\/products\/CB1000S_ClosetBracket_inset.jpg?v=1629917362"},"aspect_ratio":0.774,"height":3222,"media_type":"image","src":"https:\/\/cdn.shopify.com\/s\/files\/1\/0026\/0666\/1745\/products\/CB1000S_ClosetBracket_inset.jpg?v=1629917362","width":2494},{"alt":"Closet Bracket 3-Pack","id":20396570804337,"position":11,"preview_image":{"aspect_ratio":1.0,"height":2000,"width":2000,"src":"https:\/\/cdn.shopify.com\/s\/files\/1\/0026\/0666\/1745\/products\/CB2000_white_Closet_Bracket_Convenience_type_2_a980e8c6-84b1-4ffc-8b99-40147b66a730.jpg?v=1629917366"},"aspect_ratio":1.0,"height":2000,"media_type":"image","src":"https:\/\/cdn.shopify.com\/s\/files\/1\/0026\/0666\/1745\/products\/CB2000_white_Closet_Bracket_Convenience_type_2_a980e8c6-84b1-4ffc-8b99-40147b66a730.jpg?v=1629917366","width":2000}],"requires_selling_plan":false,"selling_plan_groups":[],"content":"\u003cp\u003ePatent pending shape gives storage hooks for belts, ties, scarves and more along bracket diagonal. Available with or without closet pole holder. Installation in any wood stud.\u003c\/p\u003e"}
Closet Bracket 3-Pack
Maximum storage
A secure base for your shelf with patent pending hypotenuse hooks to store all your smaller items.
Designed with built in closet pole holder to hang garments.
---
Features
Secure
Supports to any shelf up to 15" / 400 mm deep (with pole hook) or 12"/300 mm deep (without pole hook). Max pole diameter 35mm (1.34")
Quick Assembly
Installation in any wood stud.
Space saving
Patent pending shape gives storage hooks for belts, ties, scarves, etc. along bracket diagonal
Colors / Customization
Black or White
Options
Available with or without closet pole holder
Dimensions
10" x 7.5" x 1.25" / 250 x 290 x 32 mm with pole holder 7.5" x 7.5" x 1.25" / 190 x 190 x 32 mm without pole holder
---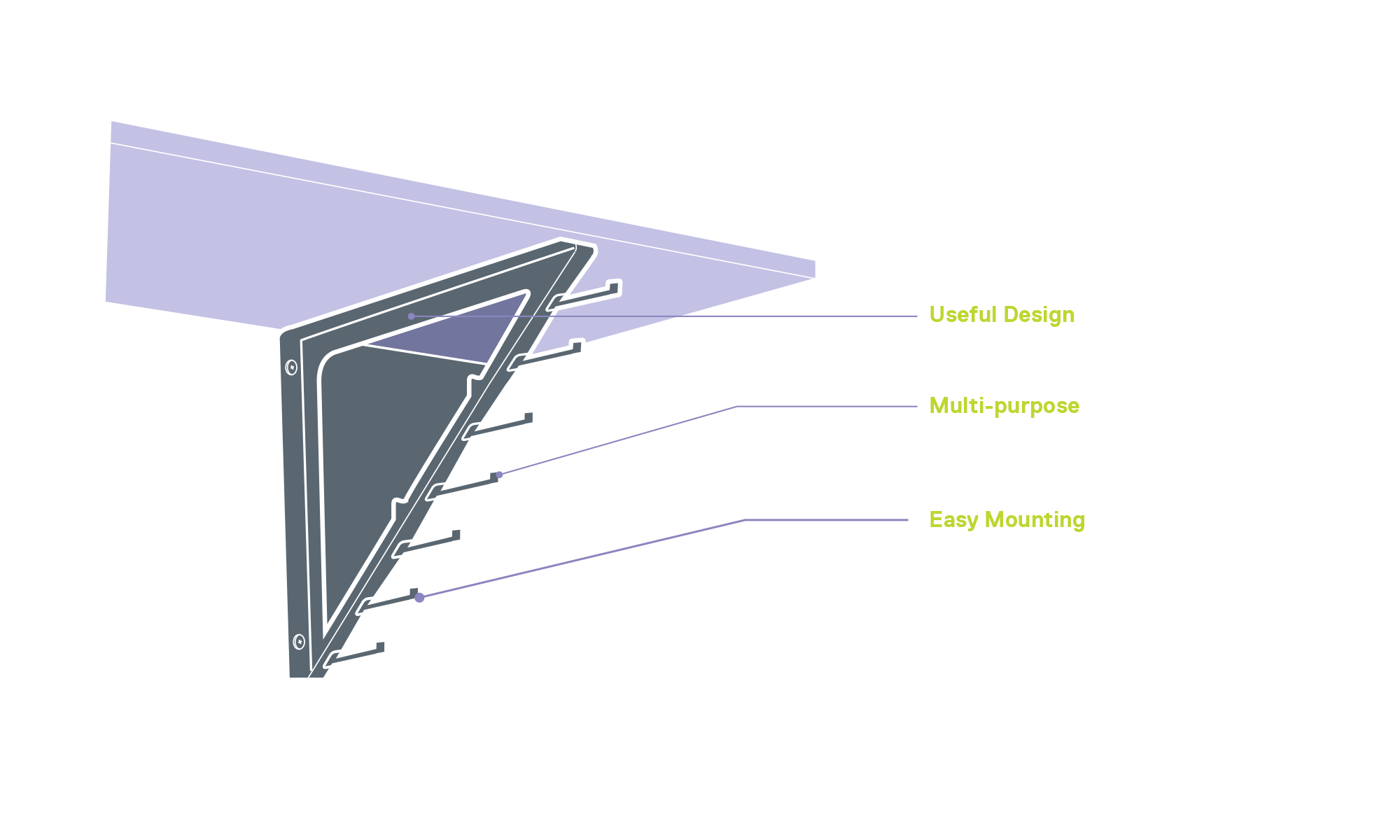 Delta Guarantee
We put a lot of effort into the design, engineering and materials that go into every product so they will look great, work well and last. If something goes wrong, we will do our best to help solve the problem.