{"id":3977970876529,"title":"Alloy Stem Raiser Pro","handle":"alloy-stem-raiser-pro","description":"\u003cp\u003e\u003cspan\u003eIncrease handlebar height up to 4.6\u003c\/span\u003e\". T6 aluminum for extra strength. Quick assembly. These alloy bicycle Stem Raisers feature a threaded molded top cap and polished anodized finish. Lightweight and easy-to-assemble stem raisers allow for \u003cspan\u003e4.6\u003c\/span\u003e" of adjustment to Ahead-style stems so you can ride in comfort.\u003c\/p\u003e","published_at":"2019-07-29T18:26:14-04:00","created_at":"2019-07-29T18:26:16-04:00","vendor":"Delta Cycle, Inc.","type":"Stem Raisers","tags":[],"price":4599,"price_min":4599,"price_max":4599,"available":true,"price_varies":false,"compare_at_price":null,"compare_at_price_min":0,"compare_at_price_max":0,"compare_at_price_varies":false,"variants":[{"id":29474908766321,"title":"Silver","option1":"Silver","option2":null,"option3":null,"sku":"TD3418S","requires_shipping":true,"taxable":true,"featured_image":{"id":28898079637617,"product_id":3977970876529,"position":1,"created_at":"2021-08-23T09:18:23-04:00","updated_at":"2021-08-23T09:18:25-04:00","alt":null,"width":3918,"height":3918,"src":"https:\/\/cdn.shopify.com\/s\/files\/1\/0026\/0666\/1745\/products\/TD3418_silver-Stem-Raiser_delta_web_3952_210520.jpg?v=1629724705","variant_ids":[29474908766321]},"available":true,"name":"Alloy Stem Raiser Pro - Silver","public_title":"Silver","options":["Silver"],"price":4599,"weight":0,"compare_at_price":null,"inventory_management":"shopify","barcode":null,"featured_media":{"alt":null,"id":21243069431921,"position":1,"preview_image":{"aspect_ratio":1.0,"height":3918,"width":3918,"src":"https:\/\/cdn.shopify.com\/s\/files\/1\/0026\/0666\/1745\/products\/TD3418_silver-Stem-Raiser_delta_web_3952_210520.jpg?v=1629724705"}},"requires_selling_plan":false,"selling_plan_allocations":[]},{"id":29474908799089,"title":"Black","option1":"Black","option2":null,"option3":null,"sku":"TD3418B","requires_shipping":true,"taxable":true,"featured_image":null,"available":true,"name":"Alloy Stem Raiser Pro - Black","public_title":"Black","options":["Black"],"price":4599,"weight":0,"compare_at_price":null,"inventory_management":"shopify","barcode":null,"requires_selling_plan":false,"selling_plan_allocations":[]}],"images":["\/\/cdn.shopify.com\/s\/files\/1\/0026\/0666\/1745\/products\/TD3418_silver-Stem-Raiser_delta_web_3952_210520.jpg?v=1629724705","\/\/cdn.shopify.com\/s\/files\/1\/0026\/0666\/1745\/products\/TD3418_Silver-Stem-Raiser_DME_2_Adjustable-Proof-Point_0274_210520.jpg?v=1629144045","\/\/cdn.shopify.com\/s\/files\/1\/0026\/0666\/1745\/products\/TD3418_Silver-Stem-Raiser_DME_3_Positioning_0240_210520.jpg?v=1629144046","\/\/cdn.shopify.com\/s\/files\/1\/0026\/0666\/1745\/products\/TD3418_Silver-Stem-Raiser_DME_4_Compatibility_3939_210521.jpg?v=1629144046","\/\/cdn.shopify.com\/s\/files\/1\/0026\/0666\/1745\/products\/TD3418_Silver-Stem-Raiser_DME_5_Assembly.jpg?v=1629144044","\/\/cdn.shopify.com\/s\/files\/1\/0026\/0666\/1745\/products\/TD3418_Silver-Stem-Raiser_DME_6_Dimenions-Gray_3926_210520.jpg?v=1629144044","\/\/cdn.shopify.com\/s\/files\/1\/0026\/0666\/1745\/products\/TD3418_Black-Stem-Raiser_delta_web_3952_210520_87f9ba5a-1085-4ff2-8154-b50e27ef8b76.jpg?v=1629724738","\/\/cdn.shopify.com\/s\/files\/1\/0026\/0666\/1745\/products\/TD3418_Black-Stem-Raiser_DME_2_Adjustable-Proof-Point_0235_210520.jpg?v=1629724948","\/\/cdn.shopify.com\/s\/files\/1\/0026\/0666\/1745\/products\/TD3418_Black-Stem-Raiser_DME_3_Positioning_0240_210520.jpg?v=1629724949","\/\/cdn.shopify.com\/s\/files\/1\/0026\/0666\/1745\/products\/TD3418_Black-Stem-Raiser_DME_4_Compatibility_3939_210521.jpg?v=1629724947","\/\/cdn.shopify.com\/s\/files\/1\/0026\/0666\/1745\/products\/TD3418_Black-Stem-Raiser_DME_5_Assembly.jpg?v=1629724948","\/\/cdn.shopify.com\/s\/files\/1\/0026\/0666\/1745\/products\/TD3418_Black-Stem-Raiser_DME_6_Dimenions-gray_3952_210520.jpg?v=1629724947"],"featured_image":"\/\/cdn.shopify.com\/s\/files\/1\/0026\/0666\/1745\/products\/TD3418_silver-Stem-Raiser_delta_web_3952_210520.jpg?v=1629724705","options":["Color"],"media":[{"alt":null,"id":21243069431921,"position":1,"preview_image":{"aspect_ratio":1.0,"height":3918,"width":3918,"src":"https:\/\/cdn.shopify.com\/s\/files\/1\/0026\/0666\/1745\/products\/TD3418_silver-Stem-Raiser_delta_web_3952_210520.jpg?v=1629724705"},"aspect_ratio":1.0,"height":3918,"media_type":"image","src":"https:\/\/cdn.shopify.com\/s\/files\/1\/0026\/0666\/1745\/products\/TD3418_silver-Stem-Raiser_delta_web_3952_210520.jpg?v=1629724705","width":3918},{"alt":"TD3418S Stem Raiser Pro","id":21213749346417,"position":2,"preview_image":{"aspect_ratio":1.0,"height":3918,"width":3918,"src":"https:\/\/cdn.shopify.com\/s\/files\/1\/0026\/0666\/1745\/products\/TD3418_Silver-Stem-Raiser_DME_2_Adjustable-Proof-Point_0274_210520.jpg?v=1629144045"},"aspect_ratio":1.0,"height":3918,"media_type":"image","src":"https:\/\/cdn.shopify.com\/s\/files\/1\/0026\/0666\/1745\/products\/TD3418_Silver-Stem-Raiser_DME_2_Adjustable-Proof-Point_0274_210520.jpg?v=1629144045","width":3918},{"alt":"TD3418S Stem Raiser Pro","id":21213749379185,"position":3,"preview_image":{"aspect_ratio":1.0,"height":3918,"width":3918,"src":"https:\/\/cdn.shopify.com\/s\/files\/1\/0026\/0666\/1745\/products\/TD3418_Silver-Stem-Raiser_DME_3_Positioning_0240_210520.jpg?v=1629144046"},"aspect_ratio":1.0,"height":3918,"media_type":"image","src":"https:\/\/cdn.shopify.com\/s\/files\/1\/0026\/0666\/1745\/products\/TD3418_Silver-Stem-Raiser_DME_3_Positioning_0240_210520.jpg?v=1629144046","width":3918},{"alt":"TD3418S Stem Raiser Pro","id":21213749411953,"position":4,"preview_image":{"aspect_ratio":1.0,"height":3918,"width":3918,"src":"https:\/\/cdn.shopify.com\/s\/files\/1\/0026\/0666\/1745\/products\/TD3418_Silver-Stem-Raiser_DME_4_Compatibility_3939_210521.jpg?v=1629144046"},"aspect_ratio":1.0,"height":3918,"media_type":"image","src":"https:\/\/cdn.shopify.com\/s\/files\/1\/0026\/0666\/1745\/products\/TD3418_Silver-Stem-Raiser_DME_4_Compatibility_3939_210521.jpg?v=1629144046","width":3918},{"alt":"TD3418S Stem Raiser Pro","id":21213749444721,"position":5,"preview_image":{"aspect_ratio":1.0,"height":3918,"width":3918,"src":"https:\/\/cdn.shopify.com\/s\/files\/1\/0026\/0666\/1745\/products\/TD3418_Silver-Stem-Raiser_DME_5_Assembly.jpg?v=1629144044"},"aspect_ratio":1.0,"height":3918,"media_type":"image","src":"https:\/\/cdn.shopify.com\/s\/files\/1\/0026\/0666\/1745\/products\/TD3418_Silver-Stem-Raiser_DME_5_Assembly.jpg?v=1629144044","width":3918},{"alt":"TD3418S Stem Raiser Pro","id":21213749477489,"position":6,"preview_image":{"aspect_ratio":1.0,"height":3918,"width":3918,"src":"https:\/\/cdn.shopify.com\/s\/files\/1\/0026\/0666\/1745\/products\/TD3418_Silver-Stem-Raiser_DME_6_Dimenions-Gray_3926_210520.jpg?v=1629144044"},"aspect_ratio":1.0,"height":3918,"media_type":"image","src":"https:\/\/cdn.shopify.com\/s\/files\/1\/0026\/0666\/1745\/products\/TD3418_Silver-Stem-Raiser_DME_6_Dimenions-Gray_3926_210520.jpg?v=1629144044","width":3918},{"alt":null,"id":21243069988977,"position":7,"preview_image":{"aspect_ratio":1.0,"height":3918,"width":3918,"src":"https:\/\/cdn.shopify.com\/s\/files\/1\/0026\/0666\/1745\/products\/TD3418_Black-Stem-Raiser_delta_web_3952_210520_87f9ba5a-1085-4ff2-8154-b50e27ef8b76.jpg?v=1629724738"},"aspect_ratio":1.0,"height":3918,"media_type":"image","src":"https:\/\/cdn.shopify.com\/s\/files\/1\/0026\/0666\/1745\/products\/TD3418_Black-Stem-Raiser_delta_web_3952_210520_87f9ba5a-1085-4ff2-8154-b50e27ef8b76.jpg?v=1629724738","width":3918},{"alt":null,"id":21243074150513,"position":8,"preview_image":{"aspect_ratio":1.0,"height":3918,"width":3918,"src":"https:\/\/cdn.shopify.com\/s\/files\/1\/0026\/0666\/1745\/products\/TD3418_Black-Stem-Raiser_DME_2_Adjustable-Proof-Point_0235_210520.jpg?v=1629724948"},"aspect_ratio":1.0,"height":3918,"media_type":"image","src":"https:\/\/cdn.shopify.com\/s\/files\/1\/0026\/0666\/1745\/products\/TD3418_Black-Stem-Raiser_DME_2_Adjustable-Proof-Point_0235_210520.jpg?v=1629724948","width":3918},{"alt":null,"id":21243074183281,"position":9,"preview_image":{"aspect_ratio":1.0,"height":3918,"width":3918,"src":"https:\/\/cdn.shopify.com\/s\/files\/1\/0026\/0666\/1745\/products\/TD3418_Black-Stem-Raiser_DME_3_Positioning_0240_210520.jpg?v=1629724949"},"aspect_ratio":1.0,"height":3918,"media_type":"image","src":"https:\/\/cdn.shopify.com\/s\/files\/1\/0026\/0666\/1745\/products\/TD3418_Black-Stem-Raiser_DME_3_Positioning_0240_210520.jpg?v=1629724949","width":3918},{"alt":null,"id":21243074248817,"position":10,"preview_image":{"aspect_ratio":1.0,"height":3918,"width":3918,"src":"https:\/\/cdn.shopify.com\/s\/files\/1\/0026\/0666\/1745\/products\/TD3418_Black-Stem-Raiser_DME_4_Compatibility_3939_210521.jpg?v=1629724947"},"aspect_ratio":1.0,"height":3918,"media_type":"image","src":"https:\/\/cdn.shopify.com\/s\/files\/1\/0026\/0666\/1745\/products\/TD3418_Black-Stem-Raiser_DME_4_Compatibility_3939_210521.jpg?v=1629724947","width":3918},{"alt":null,"id":21243074314353,"position":11,"preview_image":{"aspect_ratio":1.0,"height":3918,"width":3918,"src":"https:\/\/cdn.shopify.com\/s\/files\/1\/0026\/0666\/1745\/products\/TD3418_Black-Stem-Raiser_DME_5_Assembly.jpg?v=1629724948"},"aspect_ratio":1.0,"height":3918,"media_type":"image","src":"https:\/\/cdn.shopify.com\/s\/files\/1\/0026\/0666\/1745\/products\/TD3418_Black-Stem-Raiser_DME_5_Assembly.jpg?v=1629724948","width":3918},{"alt":null,"id":21243074347121,"position":12,"preview_image":{"aspect_ratio":1.0,"height":3918,"width":3918,"src":"https:\/\/cdn.shopify.com\/s\/files\/1\/0026\/0666\/1745\/products\/TD3418_Black-Stem-Raiser_DME_6_Dimenions-gray_3952_210520.jpg?v=1629724947"},"aspect_ratio":1.0,"height":3918,"media_type":"image","src":"https:\/\/cdn.shopify.com\/s\/files\/1\/0026\/0666\/1745\/products\/TD3418_Black-Stem-Raiser_DME_6_Dimenions-gray_3952_210520.jpg?v=1629724947","width":3918}],"requires_selling_plan":false,"selling_plan_groups":[],"content":"\u003cp\u003e\u003cspan\u003eIncrease handlebar height up to 4.6\u003c\/span\u003e\". T6 aluminum for extra strength. Quick assembly. These alloy bicycle Stem Raisers feature a threaded molded top cap and polished anodized finish. Lightweight and easy-to-assemble stem raisers allow for \u003cspan\u003e4.6\u003c\/span\u003e" of adjustment to Ahead-style stems so you can ride in comfort.\u003c\/p\u003e"}
Alloy Stem Raiser Pro
Improve your ride and your posture with delta's Stem Raiser
Making the decision to buy a bicycle is only half the battle to ensuring a comfortable ride. Like a pair of jeans, most bikes are designed for an average sized person, of a certain age. For those riders who are taller than average or are looking for a more comfortable position, delta's bicycle Stem Raiser and Stem Raiser Pro provide the ideal handlebar riser solution.
---
Features
Height Extension
Stem risers with an integrated height marker helps you quickly find your ideal handlebar position. Increases bar height up to 4.6"
Comfortable Cycling
Reduces back pressure and maximizes comfort. Relieve back, neck and wrist pain due to uncomfortable positioning. Elevate your handlebar for a better posture and added comfort.
Quality Construction
6061 Aluminum and T6 heat treatment construction provides trusted strength and durability when in use
Assembly
For use with 1 ⅛" (28.6 mm) threadless steerer tubes. Machined aluminum top cap is threaded for easy installation on any road bike, hybrid bike or mountain bike. Not recommended for installation on carbon fiber steerer tubes. Installation should only be performed by a properly trained bicycle technician. For ongoing maintenance, periodically check to make sure the stem raiser bolts are tightened to the proper torque specification.
Guaranteed Satisfaction
Designed and engineered in the US with best-in-class US based customer support delivers an A+ customer experience.
---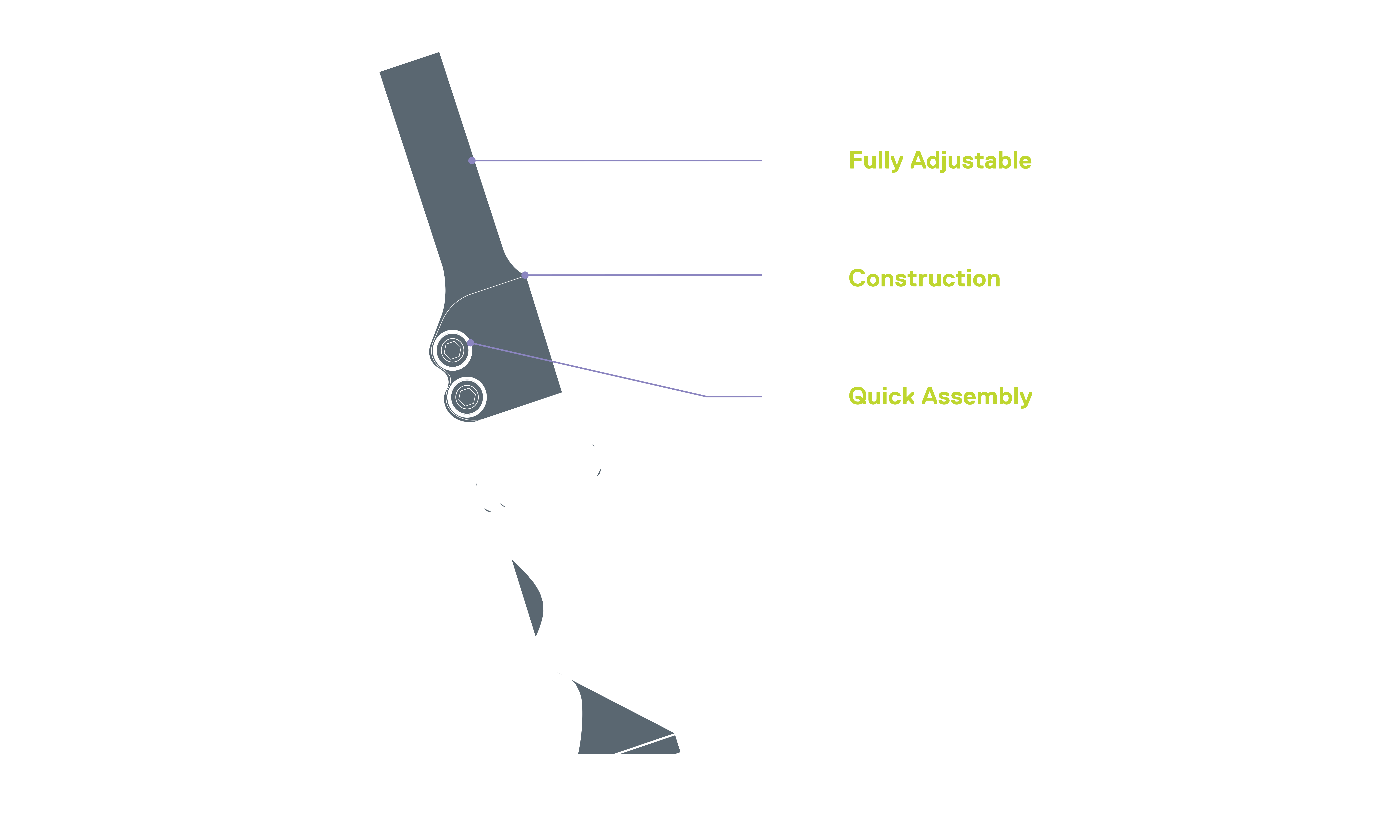 ---
Delta Guarantee
We put a lot of effort into the design, engineering and materials that go into every product so they will look great, work well and last. If something goes wrong, we will do our best to help solve the problem.