{"id":3977972678769,"title":"Slim Floating Shelves (2 Pack), Black, .5\" Thick, 3 Sizes Available","handle":"floating-shelves-black-painted","description":"\u003cp\u003eClean and bold shelf with no visible brackets. Easy installation using included InviZibolt in drill chuck. Multiple sizes and colors available. All shelves made sustainably from certified reforested MDP.\u003c\/p\u003e","published_at":"2019-07-29T18:27:02-04:00","created_at":"2019-07-29T18:27:03-04:00","vendor":"Delta Cycle, Inc.","type":"Shelving","tags":["shelvingdiscbadgev301"],"price":4996,"price_min":4996,"price_max":6630,"available":true,"price_varies":true,"compare_at_price":5995,"compare_at_price_min":5995,"compare_at_price_max":7956,"compare_at_price_varies":true,"variants":[{"id":29474911387761,"title":"8\" D x 24\" W x 0.5\" H","option1":"8\" D x 24\" W x 0.5\" H","option2":null,"option3":null,"sku":"FS2060BB-2","requires_shipping":true,"taxable":true,"featured_image":{"id":14703355691121,"product_id":3977972678769,"position":3,"created_at":"2020-06-02T10:33:23-04:00","updated_at":"2020-06-02T10:33:23-04:00","alt":"Slim Floating Shelves (2 Pack) Black .5 Thick 2 Sizes Available 8 D X 24 W H Shelving","width":1024,"height":1024,"src":"https:\/\/cdn.shopify.com\/s\/files\/1\/0026\/0666\/1745\/products\/slim-floating-shelves-2-pack-black-5-thick-sizes-available-8-d-x-24-w-0-h-shelving_578.jpg?v=1591108403","variant_ids":[29474911387761]},"available":true,"name":"Slim Floating Shelves (2 Pack), Black, .5\" Thick, 3 Sizes Available - 8\" D x 24\" W x 0.5\" H","public_title":"8\" D x 24\" W x 0.5\" H","options":["8\" D x 24\" W x 0.5\" H"],"price":4996,"weight":0,"compare_at_price":5995,"inventory_management":"shopify","barcode":"","featured_media":{"alt":"Slim Floating Shelves (2 Pack) Black .5 Thick 2 Sizes Available 8 D X 24 W H Shelving","id":6872003412081,"position":3,"preview_image":{"aspect_ratio":1.0,"height":1024,"width":1024,"src":"https:\/\/cdn.shopify.com\/s\/files\/1\/0026\/0666\/1745\/products\/slim-floating-shelves-2-pack-black-5-thick-sizes-available-8-d-x-24-w-0-h-shelving_578.jpg?v=1591108403"}},"requires_selling_plan":false,"selling_plan_allocations":[]},{"id":29474911453297,"title":"8\" D x 36\" W x 0.5\" H","option1":"8\" D x 36\" W x 0.5\" H","option2":null,"option3":null,"sku":"FS2090BB-2","requires_shipping":true,"taxable":true,"featured_image":{"id":14703359000689,"product_id":3977972678769,"position":11,"created_at":"2020-06-02T10:33:57-04:00","updated_at":"2020-06-02T10:33:57-04:00","alt":"Slim Floating Shelves (2 Pack) Black .5 Thick 2 Sizes Available 8 D X 36 W H Shelving","width":1024,"height":1024,"src":"https:\/\/cdn.shopify.com\/s\/files\/1\/0026\/0666\/1745\/products\/slim-floating-shelves-2-pack-black-5-thick-sizes-available-8-d-x-36-w-0-h-shelving_906.jpg?v=1591108437","variant_ids":[29474911453297,31757553401969]},"available":false,"name":"Slim Floating Shelves (2 Pack), Black, .5\" Thick, 3 Sizes Available - 8\" D x 36\" W x 0.5\" H","public_title":"8\" D x 36\" W x 0.5\" H","options":["8\" D x 36\" W x 0.5\" H"],"price":6203,"weight":0,"compare_at_price":7444,"inventory_management":"shopify","barcode":"","featured_media":{"alt":"Slim Floating Shelves (2 Pack) Black .5 Thick 2 Sizes Available 8 D X 36 W H Shelving","id":6872006721649,"position":11,"preview_image":{"aspect_ratio":1.0,"height":1024,"width":1024,"src":"https:\/\/cdn.shopify.com\/s\/files\/1\/0026\/0666\/1745\/products\/slim-floating-shelves-2-pack-black-5-thick-sizes-available-8-d-x-36-w-0-h-shelving_906.jpg?v=1591108437"}},"requires_selling_plan":false,"selling_plan_allocations":[]},{"id":31757553401969,"title":"10\" D x 36\" W x 0.5\" H","option1":"10\" D x 36\" W x 0.5\" H","option2":null,"option3":null,"sku":"FS2590BB-2","requires_shipping":true,"taxable":true,"featured_image":{"id":14703359000689,"product_id":3977972678769,"position":11,"created_at":"2020-06-02T10:33:57-04:00","updated_at":"2020-06-02T10:33:57-04:00","alt":"Slim Floating Shelves (2 Pack) Black .5 Thick 2 Sizes Available 8 D X 36 W H Shelving","width":1024,"height":1024,"src":"https:\/\/cdn.shopify.com\/s\/files\/1\/0026\/0666\/1745\/products\/slim-floating-shelves-2-pack-black-5-thick-sizes-available-8-d-x-36-w-0-h-shelving_906.jpg?v=1591108437","variant_ids":[29474911453297,31757553401969]},"available":true,"name":"Slim Floating Shelves (2 Pack), Black, .5\" Thick, 3 Sizes Available - 10\" D x 36\" W x 0.5\" H","public_title":"10\" D x 36\" W x 0.5\" H","options":["10\" D x 36\" W x 0.5\" H"],"price":6630,"weight":4867,"compare_at_price":7956,"inventory_management":null,"barcode":"","featured_media":{"alt":"Slim Floating Shelves (2 Pack) Black .5 Thick 2 Sizes Available 8 D X 36 W H Shelving","id":6872006721649,"position":11,"preview_image":{"aspect_ratio":1.0,"height":1024,"width":1024,"src":"https:\/\/cdn.shopify.com\/s\/files\/1\/0026\/0666\/1745\/products\/slim-floating-shelves-2-pack-black-5-thick-sizes-available-8-d-x-36-w-0-h-shelving_906.jpg?v=1591108437"}},"requires_selling_plan":false,"selling_plan_allocations":[]}],"images":["\/\/cdn.shopify.com\/s\/files\/1\/0026\/0666\/1745\/products\/slim-floating-shelves-2-pack-black-5-thick-3-sizes-available-shelving-126.jpg?v=1614267714","\/\/cdn.shopify.com\/s\/files\/1\/0026\/0666\/1745\/products\/slim-floating-shelves-2-pack-black-5-thick-3-sizes-available-shelving-962.jpg?v=1594321359","\/\/cdn.shopify.com\/s\/files\/1\/0026\/0666\/1745\/products\/slim-floating-shelves-2-pack-black-5-thick-sizes-available-8-d-x-24-w-0-h-shelving_578.jpg?v=1591108403","\/\/cdn.shopify.com\/s\/files\/1\/0026\/0666\/1745\/products\/slim-floating-shelves-2-pack-black-5-thick-sizes-available-shelving_1_631.jpg?v=1591108407","\/\/cdn.shopify.com\/s\/files\/1\/0026\/0666\/1745\/products\/slim-floating-shelves-2-pack-black-5-thick-sizes-available-shelving_2_218.jpg?v=1591108411","\/\/cdn.shopify.com\/s\/files\/1\/0026\/0666\/1745\/products\/slim-floating-shelves-2-pack-black-5-thick-sizes-available-shelving_3_938.jpg?v=1591108415","\/\/cdn.shopify.com\/s\/files\/1\/0026\/0666\/1745\/products\/slim-floating-shelves-2-pack-black-5-thick-sizes-available-shelving_4_921.jpg?v=1591108419","\/\/cdn.shopify.com\/s\/files\/1\/0026\/0666\/1745\/products\/slim-floating-shelves-2-pack-black-5-thick-sizes-available-shelving_5_650.jpg?v=1591108423","\/\/cdn.shopify.com\/s\/files\/1\/0026\/0666\/1745\/products\/slim-floating-shelves-2-pack-black-5-thick-sizes-available-shelving_6_289.jpg?v=1591108427","\/\/cdn.shopify.com\/s\/files\/1\/0026\/0666\/1745\/products\/slim-floating-shelves-2-pack-black-5-thick-sizes-available-shelving_7_382.jpg?v=1591108432","\/\/cdn.shopify.com\/s\/files\/1\/0026\/0666\/1745\/products\/slim-floating-shelves-2-pack-black-5-thick-sizes-available-8-d-x-36-w-0-h-shelving_906.jpg?v=1591108437","\/\/cdn.shopify.com\/s\/files\/1\/0026\/0666\/1745\/products\/slim-floating-shelves-2-pack-black-5-thick-sizes-available-shelving_8_837.jpg?v=1591108442"],"featured_image":"\/\/cdn.shopify.com\/s\/files\/1\/0026\/0666\/1745\/products\/slim-floating-shelves-2-pack-black-5-thick-3-sizes-available-shelving-126.jpg?v=1614267714","options":["Dimensions"],"media":[{"alt":"Slim Floating Shelves (2 Pack) Black .5 Thick 2 Sizes Available Shelving","id":20176983851121,"position":1,"preview_image":{"aspect_ratio":1.0,"height":1024,"width":1024,"src":"https:\/\/cdn.shopify.com\/s\/files\/1\/0026\/0666\/1745\/products\/slim-floating-shelves-2-pack-black-5-thick-3-sizes-available-shelving-126.jpg?v=1614267714"},"aspect_ratio":1.0,"height":1024,"media_type":"image","src":"https:\/\/cdn.shopify.com\/s\/files\/1\/0026\/0666\/1745\/products\/slim-floating-shelves-2-pack-black-5-thick-3-sizes-available-shelving-126.jpg?v=1614267714","width":1024},{"alt":"https:\/\/vimeo.com\/408694922","id":7136955236465,"position":2,"preview_image":{"aspect_ratio":1.0,"height":1024,"width":1024,"src":"https:\/\/cdn.shopify.com\/s\/files\/1\/0026\/0666\/1745\/products\/slim-floating-shelves-2-pack-black-5-thick-3-sizes-available-shelving-962.jpg?v=1594321359"},"aspect_ratio":1.0,"height":1024,"media_type":"image","src":"https:\/\/cdn.shopify.com\/s\/files\/1\/0026\/0666\/1745\/products\/slim-floating-shelves-2-pack-black-5-thick-3-sizes-available-shelving-962.jpg?v=1594321359","width":1024},{"alt":"Slim Floating Shelves (2 Pack) Black .5 Thick 2 Sizes Available 8 D X 24 W H Shelving","id":6872003412081,"position":3,"preview_image":{"aspect_ratio":1.0,"height":1024,"width":1024,"src":"https:\/\/cdn.shopify.com\/s\/files\/1\/0026\/0666\/1745\/products\/slim-floating-shelves-2-pack-black-5-thick-sizes-available-8-d-x-24-w-0-h-shelving_578.jpg?v=1591108403"},"aspect_ratio":1.0,"height":1024,"media_type":"image","src":"https:\/\/cdn.shopify.com\/s\/files\/1\/0026\/0666\/1745\/products\/slim-floating-shelves-2-pack-black-5-thick-sizes-available-8-d-x-24-w-0-h-shelving_578.jpg?v=1591108403","width":1024},{"alt":"Slim Floating Shelves (2 Pack) Black .5 Thick 2 Sizes Available Shelving","id":6872003903601,"position":4,"preview_image":{"aspect_ratio":1.0,"height":1024,"width":1024,"src":"https:\/\/cdn.shopify.com\/s\/files\/1\/0026\/0666\/1745\/products\/slim-floating-shelves-2-pack-black-5-thick-sizes-available-shelving_1_631.jpg?v=1591108407"},"aspect_ratio":1.0,"height":1024,"media_type":"image","src":"https:\/\/cdn.shopify.com\/s\/files\/1\/0026\/0666\/1745\/products\/slim-floating-shelves-2-pack-black-5-thick-sizes-available-shelving_1_631.jpg?v=1591108407","width":1024},{"alt":"Slim Floating Shelves (2 Pack) Black .5 Thick 2 Sizes Available Shelving","id":6872004362353,"position":5,"preview_image":{"aspect_ratio":1.0,"height":1024,"width":1024,"src":"https:\/\/cdn.shopify.com\/s\/files\/1\/0026\/0666\/1745\/products\/slim-floating-shelves-2-pack-black-5-thick-sizes-available-shelving_2_218.jpg?v=1591108411"},"aspect_ratio":1.0,"height":1024,"media_type":"image","src":"https:\/\/cdn.shopify.com\/s\/files\/1\/0026\/0666\/1745\/products\/slim-floating-shelves-2-pack-black-5-thick-sizes-available-shelving_2_218.jpg?v=1591108411","width":1024},{"alt":"Slim Floating Shelves (2 Pack) Black .5 Thick 2 Sizes Available Shelving","id":6872004624497,"position":6,"preview_image":{"aspect_ratio":1.0,"height":1024,"width":1024,"src":"https:\/\/cdn.shopify.com\/s\/files\/1\/0026\/0666\/1745\/products\/slim-floating-shelves-2-pack-black-5-thick-sizes-available-shelving_3_938.jpg?v=1591108415"},"aspect_ratio":1.0,"height":1024,"media_type":"image","src":"https:\/\/cdn.shopify.com\/s\/files\/1\/0026\/0666\/1745\/products\/slim-floating-shelves-2-pack-black-5-thick-sizes-available-shelving_3_938.jpg?v=1591108415","width":1024},{"alt":"Slim Floating Shelves (2 Pack) Black .5 Thick 2 Sizes Available Shelving","id":6872004952177,"position":7,"preview_image":{"aspect_ratio":1.0,"height":1024,"width":1024,"src":"https:\/\/cdn.shopify.com\/s\/files\/1\/0026\/0666\/1745\/products\/slim-floating-shelves-2-pack-black-5-thick-sizes-available-shelving_4_921.jpg?v=1591108419"},"aspect_ratio":1.0,"height":1024,"media_type":"image","src":"https:\/\/cdn.shopify.com\/s\/files\/1\/0026\/0666\/1745\/products\/slim-floating-shelves-2-pack-black-5-thick-sizes-available-shelving_4_921.jpg?v=1591108419","width":1024},{"alt":"Slim Floating Shelves (2 Pack) Black .5 Thick 2 Sizes Available Shelving","id":6872005312625,"position":8,"preview_image":{"aspect_ratio":1.0,"height":1024,"width":1024,"src":"https:\/\/cdn.shopify.com\/s\/files\/1\/0026\/0666\/1745\/products\/slim-floating-shelves-2-pack-black-5-thick-sizes-available-shelving_5_650.jpg?v=1591108423"},"aspect_ratio":1.0,"height":1024,"media_type":"image","src":"https:\/\/cdn.shopify.com\/s\/files\/1\/0026\/0666\/1745\/products\/slim-floating-shelves-2-pack-black-5-thick-sizes-available-shelving_5_650.jpg?v=1591108423","width":1024},{"alt":"Slim Floating Shelves (2 Pack) Black .5 Thick 2 Sizes Available Shelving","id":6872005607537,"position":9,"preview_image":{"aspect_ratio":1.0,"height":1024,"width":1024,"src":"https:\/\/cdn.shopify.com\/s\/files\/1\/0026\/0666\/1745\/products\/slim-floating-shelves-2-pack-black-5-thick-sizes-available-shelving_6_289.jpg?v=1591108427"},"aspect_ratio":1.0,"height":1024,"media_type":"image","src":"https:\/\/cdn.shopify.com\/s\/files\/1\/0026\/0666\/1745\/products\/slim-floating-shelves-2-pack-black-5-thick-sizes-available-shelving_6_289.jpg?v=1591108427","width":1024},{"alt":"Slim Floating Shelves (2 Pack) Black .5 Thick 2 Sizes Available Shelving","id":6872006197361,"position":10,"preview_image":{"aspect_ratio":1.0,"height":1024,"width":1024,"src":"https:\/\/cdn.shopify.com\/s\/files\/1\/0026\/0666\/1745\/products\/slim-floating-shelves-2-pack-black-5-thick-sizes-available-shelving_7_382.jpg?v=1591108432"},"aspect_ratio":1.0,"height":1024,"media_type":"image","src":"https:\/\/cdn.shopify.com\/s\/files\/1\/0026\/0666\/1745\/products\/slim-floating-shelves-2-pack-black-5-thick-sizes-available-shelving_7_382.jpg?v=1591108432","width":1024},{"alt":"Slim Floating Shelves (2 Pack) Black .5 Thick 2 Sizes Available 8 D X 36 W H Shelving","id":6872006721649,"position":11,"preview_image":{"aspect_ratio":1.0,"height":1024,"width":1024,"src":"https:\/\/cdn.shopify.com\/s\/files\/1\/0026\/0666\/1745\/products\/slim-floating-shelves-2-pack-black-5-thick-sizes-available-8-d-x-36-w-0-h-shelving_906.jpg?v=1591108437"},"aspect_ratio":1.0,"height":1024,"media_type":"image","src":"https:\/\/cdn.shopify.com\/s\/files\/1\/0026\/0666\/1745\/products\/slim-floating-shelves-2-pack-black-5-thick-sizes-available-8-d-x-36-w-0-h-shelving_906.jpg?v=1591108437","width":1024},{"alt":"Slim Floating Shelves (2 Pack) Black .5 Thick 2 Sizes Available Shelving","id":6872007180401,"position":12,"preview_image":{"aspect_ratio":1.0,"height":1024,"width":1024,"src":"https:\/\/cdn.shopify.com\/s\/files\/1\/0026\/0666\/1745\/products\/slim-floating-shelves-2-pack-black-5-thick-sizes-available-shelving_8_837.jpg?v=1591108442"},"aspect_ratio":1.0,"height":1024,"media_type":"image","src":"https:\/\/cdn.shopify.com\/s\/files\/1\/0026\/0666\/1745\/products\/slim-floating-shelves-2-pack-black-5-thick-sizes-available-shelving_8_837.jpg?v=1591108442","width":1024}],"requires_selling_plan":false,"selling_plan_groups":[],"content":"\u003cp\u003eClean and bold shelf with no visible brackets. Easy installation using included InviZibolt in drill chuck. Multiple sizes and colors available. All shelves made sustainably from certified reforested MDP.\u003c\/p\u003e"}
Slim Floating Shelves (2 Pack), Black, .5" Thick, 3 Sizes Available
Ultra-Slim Floating Shelves
One of the thinnest floating shelves available, the Delta Floating Shelf creates a modern, minimalist aesthetic. Available in a range of finish options, you'll find the style that compliments any décor. A chic alternative to bulky wall shelving, we utilize a no-show bracket design that holds up to 33 lbs per shelf. It's all thanks to our proprietary InvisiBolts, which provide fast, easy and intuitive installation.
---
Features
Refresh Your Home
Sleek and modern with multiple finish options, our wooden wall shelves breathe new life into any room without breaking the bank.
Organization Made Easy
Whether you're creating a photo display in the living room or you need extra storage in the kitchen, these natural wood floating shelves elegantly display your possessions.
No-Hassle Installation
Thanks to our proprietary InvisiBolts and easy-to-follow directions, you can set up your wall-mounted floating shelf frustration-free in under 10 minutes.
Functional Design
Each shelf holds up to 33lbs, ensuring they're functional without sacrificing style. Not only do they keep your stuff safe, they're also durable enough for everyday use.
Trusted Quality
Made from 100% sustainably sourced reforested MDP wood, our durable designs prove floating shelves don't have to be flimsy.
---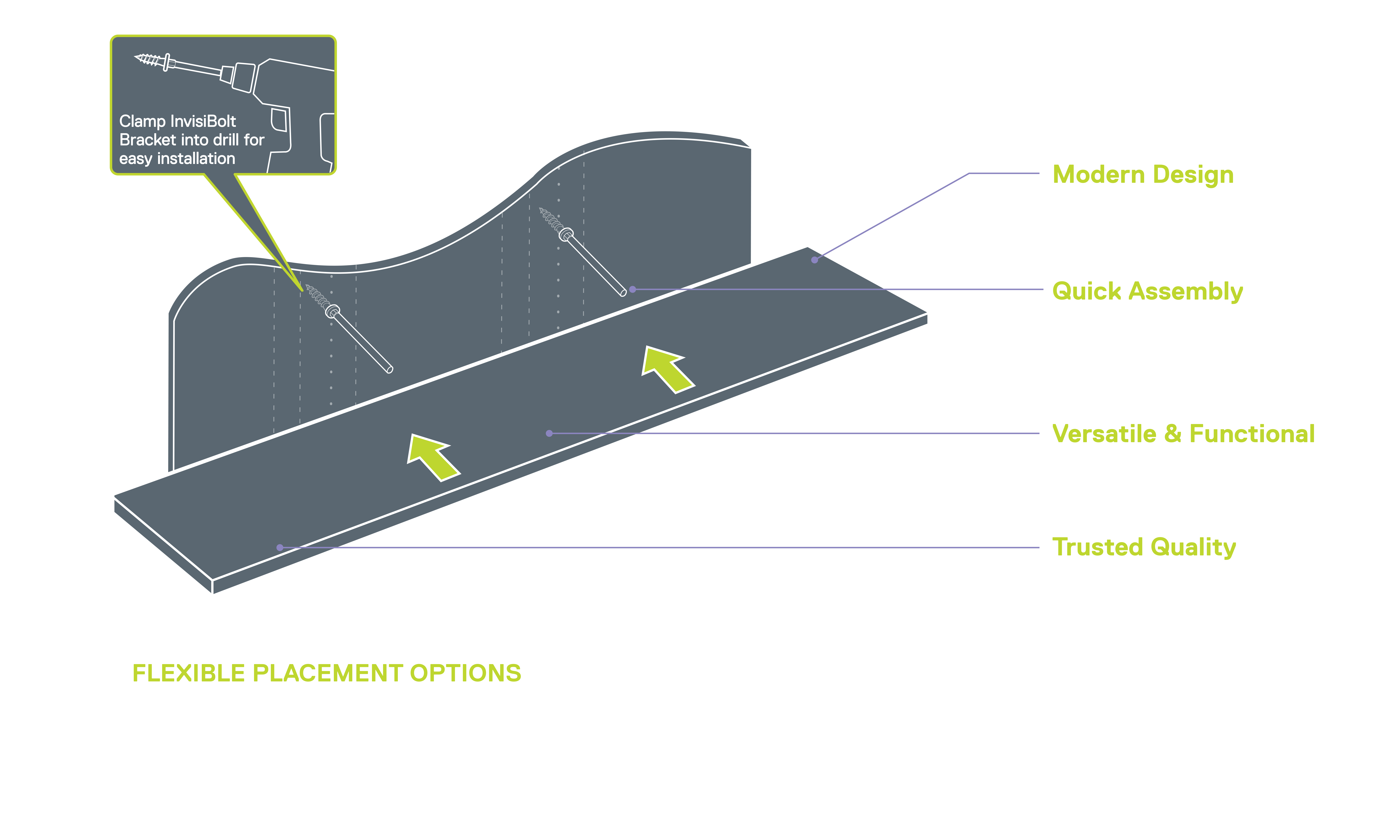 ---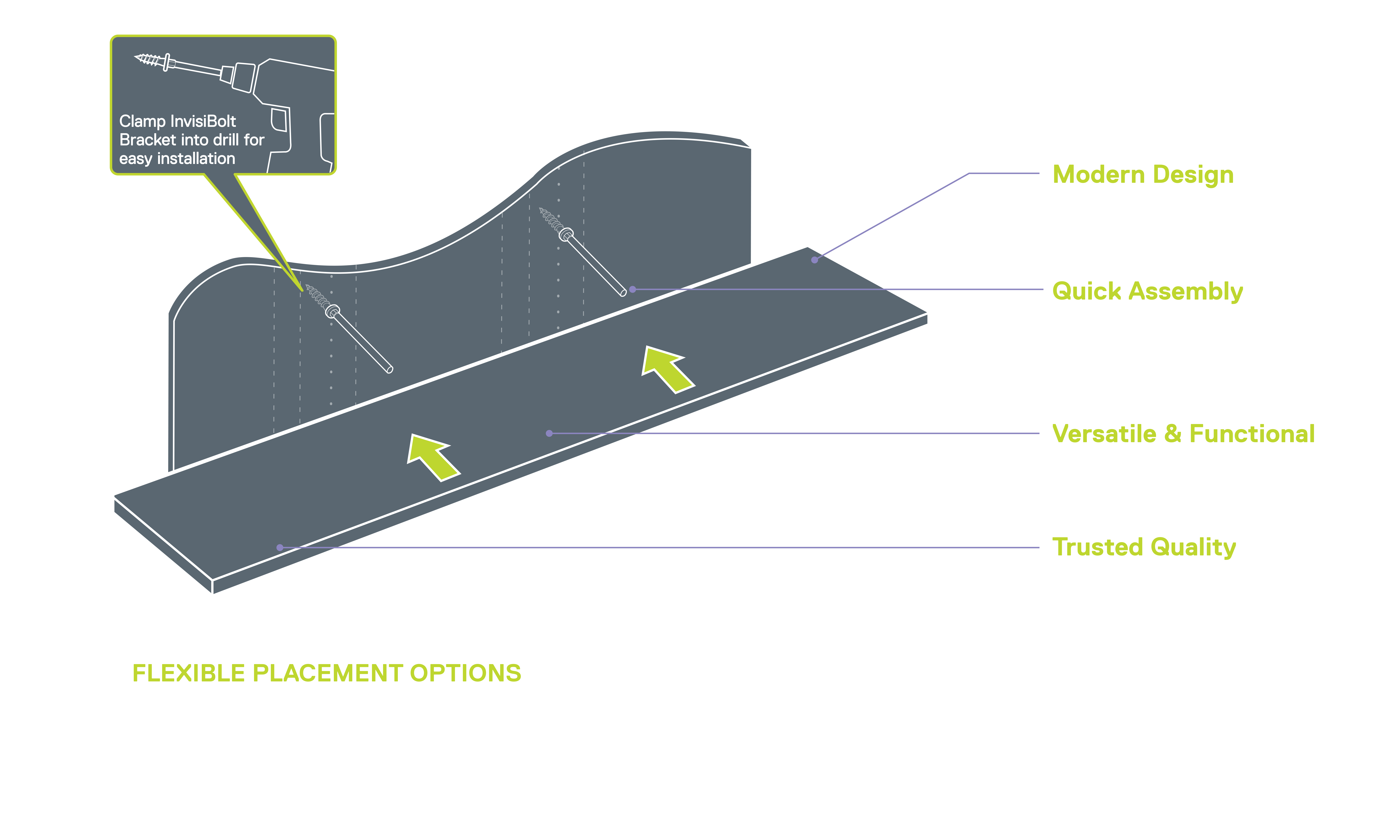 ---
Delta Guarantee
We put a lot of effort into the design, engineering and materials that go into every product so they will look great, work well and last. If something goes wrong, we will do our best to help solve the problem.