{"id":3977972318321,"title":"Single Bike Ceiling Hoist with Straps","handle":"single-bike-ceiling-hoist-with-straps","description":"\u003cp\u003eSmart auto-locking mechanism prevents accidental release. Use with or without utility straps to hold your bicycle and larger objects (kayak, ladder etc). Includes mounting hardware. Durable steel and nylon tensile cord rope. El Greco bicycle ceiling hoist\u003c\/p\u003e","published_at":"2019-07-29T18:26:50-04:00","created_at":"2019-07-29T18:26:53-04:00","vendor":"Delta Cycle, Inc.","type":"Ceiling hoists","tags":[],"price":3999,"price_min":3999,"price_max":3999,"available":true,"price_varies":false,"compare_at_price":null,"compare_at_price_min":0,"compare_at_price_max":0,"compare_at_price_varies":false,"variants":[{"id":29474910634097,"title":"Default Title","option1":"Default Title","option2":null,"option3":null,"sku":"RS2300","requires_shipping":true,"taxable":true,"featured_image":null,"available":true,"name":"Single Bike Ceiling Hoist with Straps","public_title":null,"options":["Default Title"],"price":3999,"weight":0,"compare_at_price":null,"inventory_management":"shopify","barcode":"","requires_selling_plan":false,"selling_plan_allocations":[]}],"images":["\/\/cdn.shopify.com\/s\/files\/1\/0026\/0666\/1745\/products\/RS2300_Prod_Bike_Web.jpg?v=1631823051","\/\/cdn.shopify.com\/s\/files\/1\/0026\/0666\/1745\/products\/RS2200_ceiling_hoist_hero_DGrey_WEB_16fdc02f-0e0c-494f-becd-fb570ef9ac22.jpg?v=1631823057","\/\/cdn.shopify.com\/s\/files\/1\/0026\/0666\/1745\/products\/RS2300_Hook_Web.jpg?v=1631823061","\/\/cdn.shopify.com\/s\/files\/1\/0026\/0666\/1745\/products\/RS2200_ceiling_hoist_package_contents_DGrey_WEB_52f83632-4810-46d5-ae12-3bb6d37eaa15.jpg?v=1631823065","\/\/cdn.shopify.com\/s\/files\/1\/0026\/0666\/1745\/products\/RS2200_ebike_apartment_33_WEB_ac38a1db-05cd-4db5-a429-a24f30823a18.jpg?v=1631823071","\/\/cdn.shopify.com\/s\/files\/1\/0026\/0666\/1745\/products\/RS2300_Kayak_Web.jpg?v=1631823074","\/\/cdn.shopify.com\/s\/files\/1\/0026\/0666\/1745\/products\/RS2200_Locking_Mechanism_WEB_083932d0-6ade-4bb0-a22e-fc5f790706ad.jpg?v=1631823077","\/\/cdn.shopify.com\/s\/files\/1\/0026\/0666\/1745\/products\/RS2300_Prod_Bike_UpperView_Web.jpg?v=1631823080","\/\/cdn.shopify.com\/s\/files\/1\/0026\/0666\/1745\/products\/RT2300_AutoLock_Web.jpg?v=1631823084","\/\/cdn.shopify.com\/s\/files\/1\/0026\/0666\/1745\/products\/RS2200_ceiling_hoist_easy_install_DGrey_WEB_217ed252-6a58-42f1-845d-1c13cb6563ee.jpg?v=1631823088","\/\/cdn.shopify.com\/s\/files\/1\/0026\/0666\/1745\/products\/RS2200_Hooks_2_DGrey_WEB_f36db730-4eae-4e99-ac86-f17ccd4217a4.jpg?v=1631823091"],"featured_image":"\/\/cdn.shopify.com\/s\/files\/1\/0026\/0666\/1745\/products\/RS2300_Prod_Bike_Web.jpg?v=1631823051","options":["Title"],"media":[{"alt":"RS2300 Single Bike Ceiling Hoist with Straps","id":4049159585905,"position":1,"preview_image":{"aspect_ratio":1.0,"height":1200,"width":1200,"src":"https:\/\/cdn.shopify.com\/s\/files\/1\/0026\/0666\/1745\/products\/RS2300_Prod_Bike_Web.jpg?v=1570282637"},"aspect_ratio":1.0,"height":1200,"media_type":"image","src":"https:\/\/cdn.shopify.com\/s\/files\/1\/0026\/0666\/1745\/products\/RS2300_Prod_Bike_Web.jpg?v=1570282637","width":1200},{"alt":"RS2300 Single Bike Ceiling Hoist with Straps","id":20304897409137,"position":2,"preview_image":{"aspect_ratio":1.0,"height":1200,"width":1200,"src":"https:\/\/cdn.shopify.com\/s\/files\/1\/0026\/0666\/1745\/products\/RS2200_ceiling_hoist_hero_DGrey_WEB_16fdc02f-0e0c-494f-becd-fb570ef9ac22.jpg?v=1614875950"},"aspect_ratio":1.0,"height":1200,"media_type":"image","src":"https:\/\/cdn.shopify.com\/s\/files\/1\/0026\/0666\/1745\/products\/RS2200_ceiling_hoist_hero_DGrey_WEB_16fdc02f-0e0c-494f-becd-fb570ef9ac22.jpg?v=1614875950","width":1200},{"alt":"RS2300 Single Bike Ceiling Hoist with Straps","id":4049159618673,"position":3,"preview_image":{"aspect_ratio":1.0,"height":1200,"width":1200,"src":"https:\/\/cdn.shopify.com\/s\/files\/1\/0026\/0666\/1745\/products\/RS2300_Hook_Web.jpg?v=1570282637"},"aspect_ratio":1.0,"height":1200,"media_type":"image","src":"https:\/\/cdn.shopify.com\/s\/files\/1\/0026\/0666\/1745\/products\/RS2300_Hook_Web.jpg?v=1570282637","width":1200},{"alt":"RS2300 Single Bike Ceiling Hoist with Straps","id":20304897572977,"position":4,"preview_image":{"aspect_ratio":1.0,"height":1200,"width":1200,"src":"https:\/\/cdn.shopify.com\/s\/files\/1\/0026\/0666\/1745\/products\/RS2200_ceiling_hoist_package_contents_DGrey_WEB_52f83632-4810-46d5-ae12-3bb6d37eaa15.jpg?v=1614875949"},"aspect_ratio":1.0,"height":1200,"media_type":"image","src":"https:\/\/cdn.shopify.com\/s\/files\/1\/0026\/0666\/1745\/products\/RS2200_ceiling_hoist_package_contents_DGrey_WEB_52f83632-4810-46d5-ae12-3bb6d37eaa15.jpg?v=1614875949","width":1200},{"alt":"RS2300 Single Bike Ceiling Hoist with Straps","id":20304897441905,"position":5,"preview_image":{"aspect_ratio":1.0,"height":1200,"width":1200,"src":"https:\/\/cdn.shopify.com\/s\/files\/1\/0026\/0666\/1745\/products\/RS2200_ebike_apartment_33_WEB_ac38a1db-05cd-4db5-a429-a24f30823a18.jpg?v=1614875950"},"aspect_ratio":1.0,"height":1200,"media_type":"image","src":"https:\/\/cdn.shopify.com\/s\/files\/1\/0026\/0666\/1745\/products\/RS2200_ebike_apartment_33_WEB_ac38a1db-05cd-4db5-a429-a24f30823a18.jpg?v=1614875950","width":1200},{"alt":"RS2300 Single Bike Ceiling Hoist with Straps","id":4049159716977,"position":6,"preview_image":{"aspect_ratio":1.0,"height":1200,"width":1200,"src":"https:\/\/cdn.shopify.com\/s\/files\/1\/0026\/0666\/1745\/products\/RS2300_Kayak_Web.jpg?v=1570282637"},"aspect_ratio":1.0,"height":1200,"media_type":"image","src":"https:\/\/cdn.shopify.com\/s\/files\/1\/0026\/0666\/1745\/products\/RS2300_Kayak_Web.jpg?v=1570282637","width":1200},{"alt":"RS2300 Single Bike Ceiling Hoist with Straps","id":20304897540209,"position":7,"preview_image":{"aspect_ratio":1.0,"height":1200,"width":1200,"src":"https:\/\/cdn.shopify.com\/s\/files\/1\/0026\/0666\/1745\/products\/RS2200_Locking_Mechanism_WEB_083932d0-6ade-4bb0-a22e-fc5f790706ad.jpg?v=1614875950"},"aspect_ratio":1.0,"height":1200,"media_type":"image","src":"https:\/\/cdn.shopify.com\/s\/files\/1\/0026\/0666\/1745\/products\/RS2200_Locking_Mechanism_WEB_083932d0-6ade-4bb0-a22e-fc5f790706ad.jpg?v=1614875950","width":1200},{"alt":"RS2300 Single Bike Ceiling Hoist with Straps","id":4049159782513,"position":8,"preview_image":{"aspect_ratio":1.0,"height":1200,"width":1200,"src":"https:\/\/cdn.shopify.com\/s\/files\/1\/0026\/0666\/1745\/products\/RS2300_Prod_Bike_UpperView_Web.jpg?v=1570282637"},"aspect_ratio":1.0,"height":1200,"media_type":"image","src":"https:\/\/cdn.shopify.com\/s\/files\/1\/0026\/0666\/1745\/products\/RS2300_Prod_Bike_UpperView_Web.jpg?v=1570282637","width":1200},{"alt":"RS2300 Single Bike Ceiling Hoist with Straps","id":4049175380081,"position":9,"preview_image":{"aspect_ratio":1.0,"height":1200,"width":1200,"src":"https:\/\/cdn.shopify.com\/s\/files\/1\/0026\/0666\/1745\/products\/RT2300_AutoLock_Web.jpg?v=1570282639"},"aspect_ratio":1.0,"height":1200,"media_type":"image","src":"https:\/\/cdn.shopify.com\/s\/files\/1\/0026\/0666\/1745\/products\/RT2300_AutoLock_Web.jpg?v=1570282639","width":1200},{"alt":"RS2300 Single Bike Ceiling Hoist with Straps","id":20304897474673,"position":10,"preview_image":{"aspect_ratio":1.0,"height":1200,"width":1200,"src":"https:\/\/cdn.shopify.com\/s\/files\/1\/0026\/0666\/1745\/products\/RS2200_ceiling_hoist_easy_install_DGrey_WEB_217ed252-6a58-42f1-845d-1c13cb6563ee.jpg?v=1614875950"},"aspect_ratio":1.0,"height":1200,"media_type":"image","src":"https:\/\/cdn.shopify.com\/s\/files\/1\/0026\/0666\/1745\/products\/RS2200_ceiling_hoist_easy_install_DGrey_WEB_217ed252-6a58-42f1-845d-1c13cb6563ee.jpg?v=1614875950","width":1200},{"alt":"RS2300 Single Bike Ceiling Hoist with Straps","id":20304897507441,"position":11,"preview_image":{"aspect_ratio":1.0,"height":1200,"width":1200,"src":"https:\/\/cdn.shopify.com\/s\/files\/1\/0026\/0666\/1745\/products\/RS2200_Hooks_2_DGrey_WEB_f36db730-4eae-4e99-ac86-f17ccd4217a4.jpg?v=1614875951"},"aspect_ratio":1.0,"height":1200,"media_type":"image","src":"https:\/\/cdn.shopify.com\/s\/files\/1\/0026\/0666\/1745\/products\/RS2200_Hooks_2_DGrey_WEB_f36db730-4eae-4e99-ac86-f17ccd4217a4.jpg?v=1614875951","width":1200}],"requires_selling_plan":false,"selling_plan_groups":[],"content":"\u003cp\u003eSmart auto-locking mechanism prevents accidental release. Use with or without utility straps to hold your bicycle and larger objects (kayak, ladder etc). Includes mounting hardware. Durable steel and nylon tensile cord rope. El Greco bicycle ceiling hoist\u003c\/p\u003e"}
Single Bike Ceiling Hoist with Straps
Up, Up and Away
As cyclists, we love to ride but hate tripping over our bike once it's home. Maximize storage space without sacrificing convenience. Designed for ceilings up to 12ft high, it holds your gear up and out of the way. Guaranteed for a variety of makes and models, it's compatible with road, commuter, mountain and even child-sized bikes. Able to support 100lbs and reliably durable, you can rest assured your ride is in good hands.
---
Features
Space-Saving Design
Designed for ceilings up to 12ft high, our garage pulley system helps you reclaim valuable storage space. Complete with accessory straps, it also secures large objects like kayaks, cargo boxes, ladders and more.
Safe and Secure
Supporting up to 100lbs, our bicycle and kayak ceiling hoist helps protect your investment. An auto-lock mechanism prevents accidental release, while rubber-coated hooks support the frame without damaging it.
Quick, Easy Access
Utilizing a convenient pulley system, our bike hanger makes it easy to raise and lower your gear. Featuring durable nylon tensile cord rope, it securely holds heavy weight without stretching.
Style Meets Strength
Thanks to a silver stamped powdercoat finish, our kayak and bike ceiling hoist boasts an attractive design and is a seamless addition to any garage or décor.
No Hassle Installation
Designed with inline bolt holes, the hoist easily mounts to ceiling joists. All necessary hardware is included, and access to our US-based support team allows frustration-free setup.
Max Weight
100 lb / 45.45 kg
---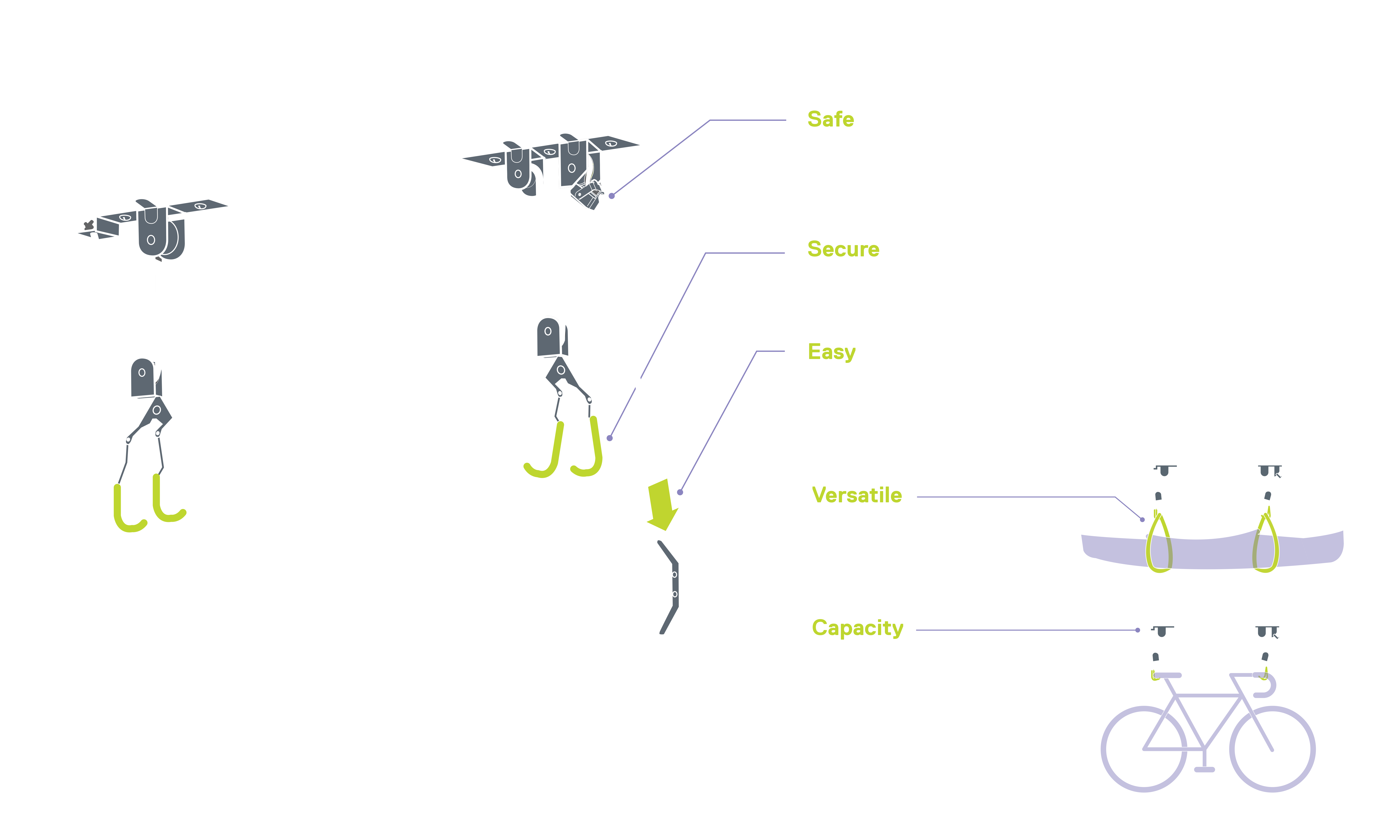 ---
Delta Guarantee
We put a lot of effort into the design, engineering and materials that go into every product so they will look great, work well and last. That's why we offer a limited lifetime warranty that covers defects in workmanship and materials. If something goes wrong, we will do our best to help solve the problem.